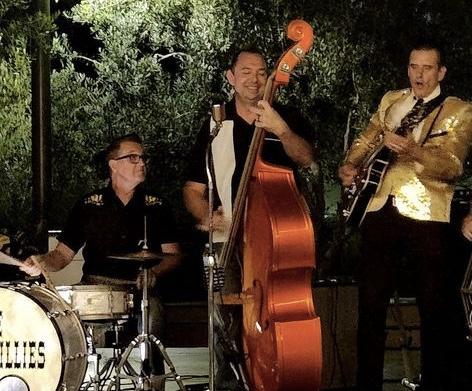 -
Marriott, Level 1, Marriott Stage
In-Person Only
The Altar Billies are a trio from Orange County California fronted by guitarist/vocalist Michael W Stand. Rounding out the group are Johnny X on upright and Chuck Cummings on Drums. The group covers many Rockabilly and early 50s classics, as well as newly penned originals.
For over 14 years the fellas have been featured at such venues as the Orange County Fair, Tustin Street Fair, Orange Street Fair, Downtown Fullerton Marketplace Concert Series, Silverado Canyon Concert Series, The Lake Havasu Rockabilly Reunion as well as numerous times at the Anaheim NAMM Show. They have also appeared at many clubs in the OC area – including the "Old" Downtown Disney Anaheim House of Blues, The Coach House and The Observatory.
In late 2010, the group released its self-titled CD "The Altar Billies." This release was soon followed by other singles including: "Hold on," "You Found me," and their rockabilly version of the Christmas classic: "Joy to the World." In 2013 the group released their most successful single and video to date: "I'm Still Stand'n." .
Not to be complacent with the success of "I'm Still Stand'n," Michael W penned a new song in the summer of 2013 titled "Ballad of the Big Boy" (Titans of the Wasatch). This tune paid homage to the biggest steam engine in the world (owned and operated by Union Pacific Railroad).
In 2014 the group released its first full-length 15-song project titled "Head'n out West." This musical venture paid homage to the "fore fathers" of rockabilly while also seeking to push the not so stated boundaries of this unique and underrated genre of music.
Singles! Singles! Singles. From 2018 through 2021 the group released a myriad of singles including: "The Ballad of Ol' Luce," "Virginia Truckee Line," "Great Big Rollin Big Boy," and many others.
Late in 2022 the group released its third full length recording project titled: "All In." This record offers up a size-able "helpin" of Swing, rockabilly and hot rod rock with all that is good about the great music of 50s and the incredible sound of Sun Records!
The Altar Billies are proud to carry the rockabilly torch and keep this musical heritage alive and relevant. They are 3 swell guys that work hard, play swell together and have a dandy good time in the process!