Jimetta Rose and The Voices of Creation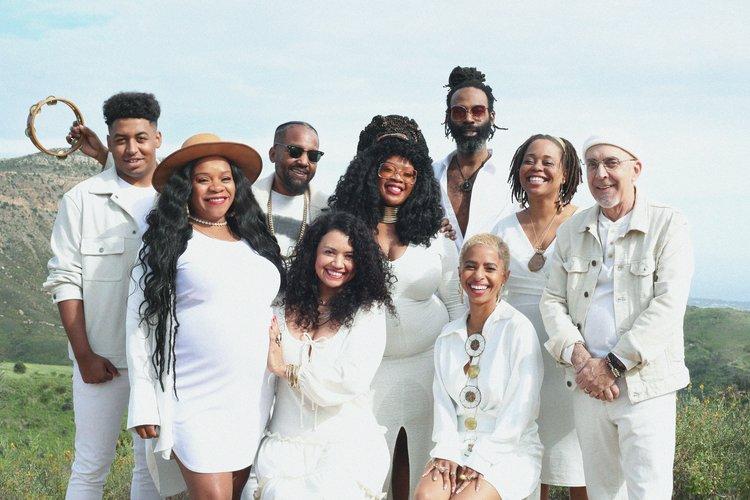 -
ACC, Plaza, Yamaha Grand Plaza Stage
In-Person & Livestream
Like a breath of fresh air or the gently rising gusts of a windstorm, The Voices of Creation have been a refreshing and surprising addition to the present day musical landscape. Founded by Jimetta Rose and organist Jack Maeby in 2019, the soul and jazz choir have kept true to their intention of singing to heal themselves and others. With the radiant and gifted Quran Shaheed on piano and producer/ emcee Allakoi Peete on percussion the sound becomes a throwback sound set against the grand possibilities of a new wave of music, community, and expression.
With their warm harmonies, bold choreography, and sincerity they have wowed audiences all around LA from The Broad Museum (Black Fire series), and Grand Performances 2020 Heritage Square livestream  to New Year's Eve at Grand Park for the city's celebration with the amazing Pan Afrikan People's Arkestra. The choir was featured in the PBS special "Artbound: The New West Coast Sound: An LA Jazz Legacy" as guests of drummer/bandleader Mekala Sessions of P.A.P.A performing a Jimetta Rose original,  "I Met a Mountain". Despite the challenges of the pandemic VOC stayed busy appearing on Thurz's Party In My Living Room show and opening for the legendary Pink Siifu at the Lodge Room in December 2021; proving the group's hard-to-conceal crossover appeal. Community remains a large part of their collective focus even as the opportunities take them into new arenas; doing shows for the homeless downtown on skid row, singing in the Leimert Park Juneteenth celebration 2 years in a row, and rehearsing weekly at Sole Folks Artlab in the heart of Leimert are a few ways the group keeps culture and community first.
Their debut album recorded and executive produced by Mario C. was released on Daydreamer Records and Amor in Sound out of the UK and has had a stellar reception. With international tastemaker Gilles Peterson, selecting to highlight and premiere 3 songs from the choir live from Maida Vale in his BBC6 radio show with featured guest Questlove, there seems to be only one way to go from here and that's up! In 2023, things seem to be getting better and better with Jimetta Rose and The Voices of Creation in the confirmed lineup for the popular UK "We Out Here" festival in August 2023. The choir continues to go above and beyond even their own expectations so this should be an exciting journey for us all.