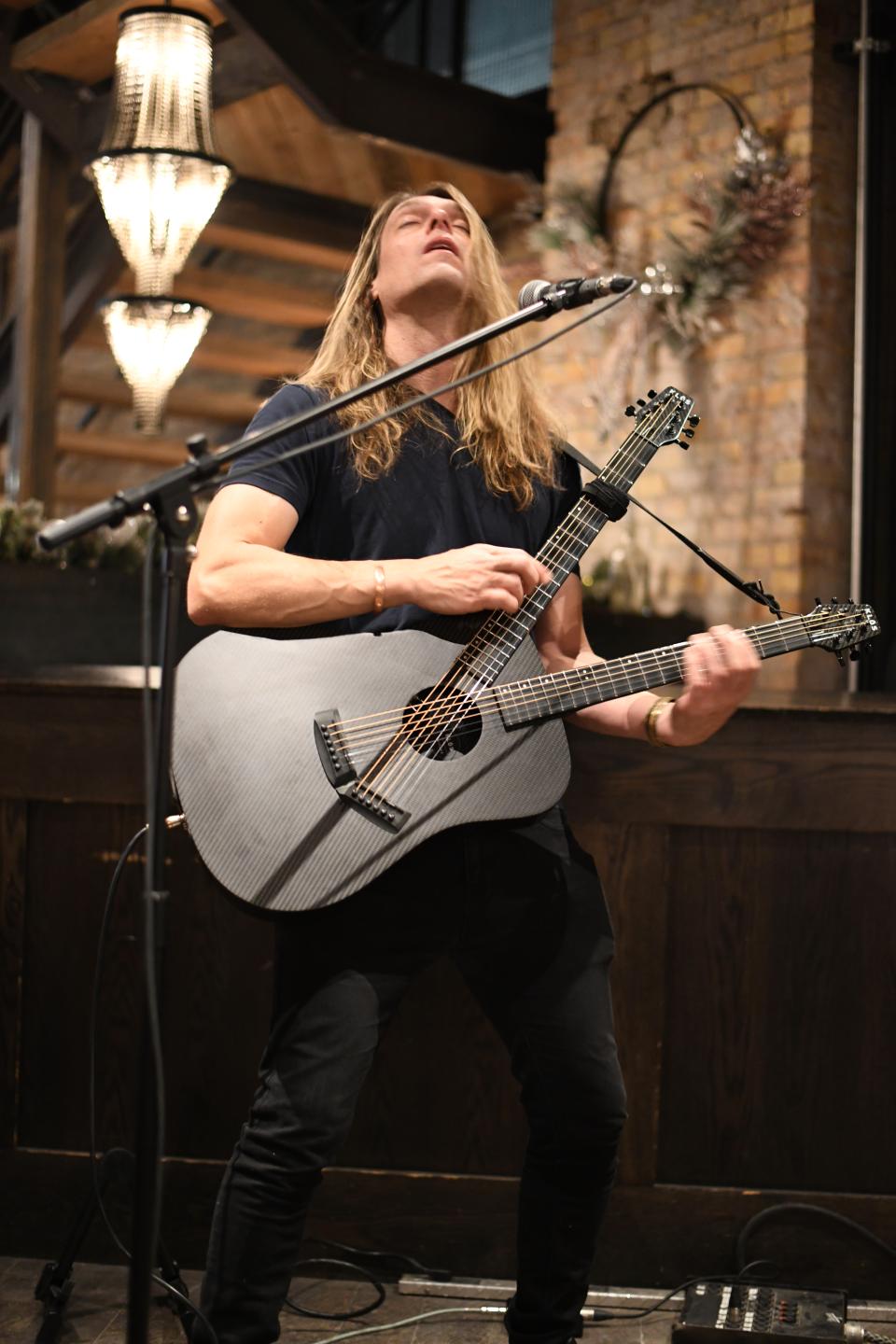 -
Westin, Westin Lobby Stage
In-Person Only
Since 1995, guitarist/singer/songwriter/producer/composer, Terence Hansen, has been performing his own compositions, popular standards, and classics to audiences in the USA and Europe using his version of the 'legato tapping' technique on two guitar necks simultaneously (while singing). Terence performs with his unique custom built 'crossed neck' acoustic and electric guitars. The original guitars were made by Dutch luthier Richard Heeres (Heeres Guitars), and the second generation by KLOS Guitars.
Terence's unusual approach to guitar playing has been featured on tracks with Rik Hoogendoorn (actor), Richard Heijerman (Herman Brood), Rich Wyman (Van Halen), Jos Van Oost, Isaiah Stewart, Randy Brecker (Brecker Brothers), Tom Scott (Joni Mitchell), Deodato (Earth Wind and Fire), and Jamie Glaser (Jean Luc Ponty), Hugh McDonald (Bon Jovi), Jonni Lightfoot (Air Supply), CJ Burton (Air Supply), Coco Garcia, Cavedoll, Han de Kluijver, Arcana Wild, and Desert Wind, as well as movie soundtracks, toys, aquariums, and commercials. Terence has opened for artists such as Robert Palmer, Jennifer Batten, Gary Hoey, Neil Zaza, Bumblefoot, as well as headlined Zappanale 22 (Germany), the Spijkenisse Festival (Holland), the Den Haag Guitar Festival, Guitar Nation (London), Hellevoutsluis Guitar Festival, and has been featured in GitaarPlus Magazine and GuitarWorld.com. Terence was recognized as the 'Best Independent Live Artist of 2019' and 'Guitarist of the Year' in '20 and '23 by Scorpius Magazine. At the end of 2022, Terence also composed and performed 42 minutes of Modern Dance music with choreographer Marjolijn Breuring for Brielle Danst HOOP, a two night theater production in Brielle, Netherlands. Terence also has recently performed in fundraisers for MS, ALS, and Equality Utah.
In 2019, Terence co-founded the non-profit teen education program, the Salt Lake Academy of Music (SLAM). In December of 2021, Terence retired from music education after over 30 years of teaching, coaching, mentoring, recording, and producing kids and adults. Terence is still producing up-coming artists in all genres on occasion. Terence has seen some of these kids make the big time!