Bands at NAMM Performers for The 2023 NAMM Show Announced
Program welcomes emerging and established artists of all genres to perform at The NAMM Show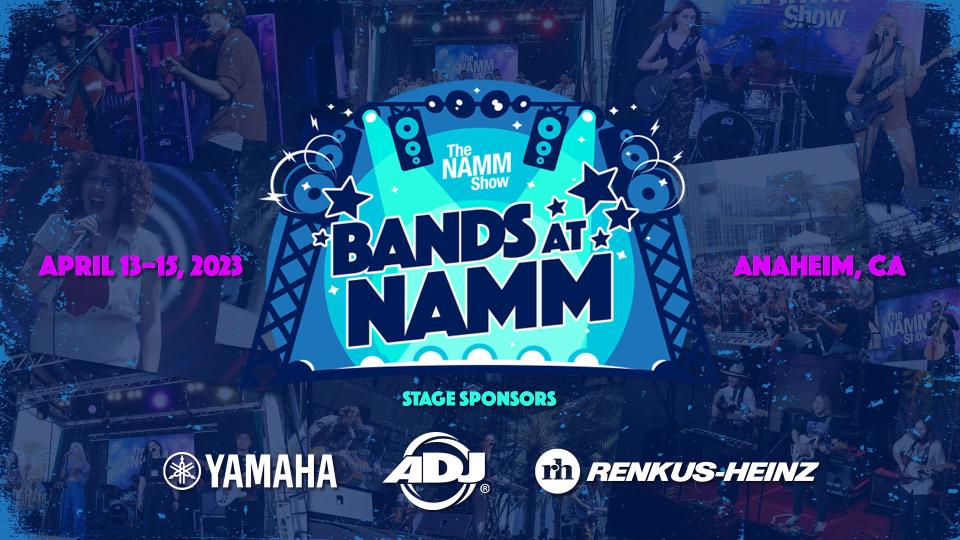 The 2023 NAMM Show is welcoming musical acts of all genres to showcase their talents during the annual trade show, held April 13-15 at the Anaheim Convention Center in Anaheim, California. The Bands at NAMM program will feature 150 artists spanning Americana and bluegrass to funk, hip-hop, mariachi, pop, rock and more, to showcase their acts across three days of the annual show.
Acts include multi-GRAMMY® winners Mariachi Divas De Cindy Shea, R&B star Khalil Nash, rockers S8NT ELEKTRIC, the United States Air Force Band of the Golden West's The Commanders Jazz Ensemble, and many more. View the schedule of Bands at NAMM performers on NAMM Show+.
Before The NAMM Show, listen to The 2023 NAMM Show Bands at NAMM Spotify playlist here: https://open.spotify.com/playlist/5K0GnxUe0ebBbPzLg6dsR0?si=ec899afc00324348
Bands at NAMM performances join the return of much-loved industry events, including the Parnelli Awards, the TEC Experience, and the She Rocks Awards, the new MIDI@40 and Hip Hop 50 celebrations, as well as other event gatherings and networking opportunities, including the Top 100, Pro Audio Pool Party, Women of NAMM and NAMM Young Professionals receptions, and more.
In addition to the events and receptions, attendees of The 2023 NAMM Show will enjoy a robust show floor with exhibiting brands, including Adam Hall; ADJ; Allen & Heath; American Music & Sound; Apogee; Avid; beyerdynamic; C.F. Martin & Co.; Casio; Conn-Selmer; d&b audiotechnik; Ernie Ball; ESP; Harman; IK Multimedia; Ibanez; Kala; Kawai; KMC Music; Konig and Meyer; Line 6; Pioneer; Shure; Tama; Ultimate Ears; and Yamaha, among many others. 
Registration for The 2023 NAMM Show is now open at https://www.namm.org/thenammshow/attend
---
About NAMM
The National Association of Music Merchants (NAMM) is the not-for-profit association with a mission to strengthen the $17 billion music products industry. NAMM is comprised of 15,000 global member companies and individual professionals. NAMM events and members fund The NAMM Foundation's efforts to promote the pleasures and benefits of music and advance active participation in music-making across the lifespan. For more information about NAMM, please visit www.namm.org.