2009 Summer NAMM Opens In Nashville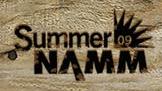 NASHVILLE, Tenn.
NAMM, the not-for-profit trade association of the international music products industry, opened its 2009 Summer NAMM music products trade show today at the Nashville Convention Center, welcoming 145 new exhibitors to the annual event. The show runs today through Sunday.
More than 11,000 music products industry professionals from 30+ countries are expected to attend 2009 Summer NAMM to view the latest musical instruments and products from more than 380 exhibiting companies. The show is expected to generate an estimated $10 million for the local economy.
This year, the theme of "opportunity" will run throughout the Summer NAMM show, encouraging optimism for those long-time and new exhibitors and retailers who have been affected by the current challenges in the economy. In fact, a recent Gallup Poll conducted on behalf of NAMM showed that interest in making music is at an all-time high, and more people are currently playing music and own musical instruments than have in the last decade.
"Given the severe economic situation and its impact on our Members' businesses, the face-to-face connections that will be made at this year's Summer NAMM are more important than ever," said Joe Lamond, president and CEO, NAMM. "As long as there are NAMM Members who need and want a second industry gathering to meet with their suppliers, attend NAMM University sessions, network with their peers and get recharged for the fall and holiday selling season, NAMM will do our best to provide it."
First-time exhibitor Lawson Peets, owner of a new company in Mooresville, N.C., that specializes in wholesale musical accessories, said he is looking forward to meeting with existing customers and establishing new business at the 2009 Summer NAMM show.
"The vast majority of my customers live within driving distance of Nashville," Peets said. "I like having Summer NAMM in Nashville because it is centralized in relation to my customer base."
Randy Jacobs, M.D., a clinical dermatologist and fingerstyle guitarist who has developed a clinical lipid therapy cleansing lotion made specifically for guitarists to help them care for their hands, will also be exhibiting his new product for the first time at this year's Summer NAMM.
"I am a busy doctor and I spend every day in my office caring for patients," said Jacobs. "For me, it is refreshing to get out of the office, go to Summer NAMM, and meet people in a nonmedical setting. And, though I am not in my office, I can still help people have healthy skin as they learn about Guitar Hands Cleansing Lotion."
In addition to the many exhibits featuring an array of music products, there are a variety of activities scheduled to educate, entertain and unite show attendees.
Each day of the show kicks off at 8 a.m. with a breakfast session at the Renaissance Nashville Hotel to offer attendees insightful information about the industry.
Friday morning, NAMM President and CEO Joe Lamond and a panel of industry leaders will present the annual "State of the Industry Address," covering the current state of the industry and discussing the trends, challenges and opportunities that will influence the music products community during the second half of the year and beyond.
Saturday's breakfast session, called "Your Retail Stimulus Plan—Jump Start Your Sales No Matter What's Happening in the Economy," will be presented by Bob Negen, a retail expert and co-creator of the Retail Mastery System, and is geared toward increasing customer loyalty, boosting foot traffic and increasing overall retail sales.
On Sunday, attendees are invited to see the "Best In Show: This Year's Hottest Products," at the breakfast session hosted by Music Inc. publisher Frank Alkyer and a panel of retail buyers, media and gear enthusiasts. All of the best merchandise, ideas and trends at this year's show will be revealed to attendees.
NAMM will fill all three days of Summer NAMM with free, information-packed, how-to sessions held right on the show floor (booth #837) every 30 minutes. Taught by industry professionals who have first-hand knowledge about the challenges music products retailers face, the sessions will include an "ask the experts" panel discussion, information on how to enhance the customer experience and drive up profitability, and advice on how to beat today's retail challenges. For more information about daily sessions, visit www.namm.org/summer/namm-u.
In addition to the many industry activities at the show, there will also be scheduled artist appearances held at exhibitors' booths. A listing in the 2009 Summer NAMM PLAYback supplement can be downloaded at www.namm.org/summer.
2009 Summer NAMM runs through Sunday, July 19, at the Nashville Convention Center. For more information on all of the events taking place at Summer NAMM, go to www.namm.org/summer.
The more than 9,000-Member organization also hosts the largest music products trade show in North America called The NAMM Show, which is held annually in Anaheim, Calif., and draws close to 90,000 registrants. The 2010 NAMM Show, will take place Jan. 14-17, 2010, at the Anaheim Convention Center.
---
NAMM Public Relations
Phone: 760.438.8007
About NAMM
The National Association of Music Merchants (NAMM) is the not-for-profit association with a mission to strengthen the $17 billion music products industry. NAMM is comprised of approximately 10,300 members located in 104 countries and regions. NAMM events and members fund The NAMM Foundation's efforts to promote the pleasures and benefits of music, and advance active participation in music making across the lifespan. For more information about NAMM, please visit www.namm.org, call 800.767.NAMM (6266) or follow the organization on Facebook, Instagram and Twitter.