The 2023 NAMM Show to Present 9x GRAMMY® Winner Brandi Carlile in Conversation With 4x GRAMMY winner Producer/Engineer Dave Way in Special TEC Tracks Session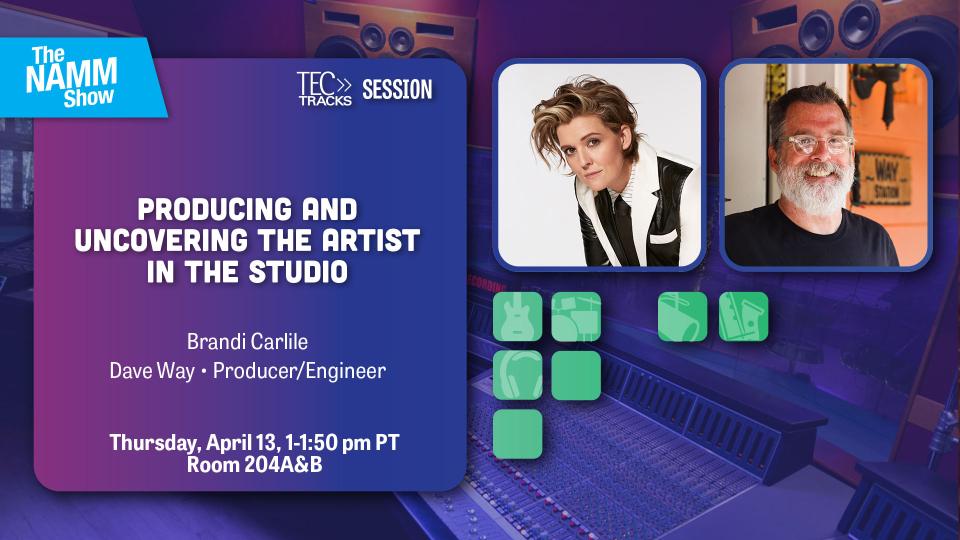 At the upcoming NAMM Show in Anaheim, CA (April 13-15), the TEC Tracks education program will present "Brandi Carlile on Producing and Uncovering the Artist in the Studio," which will feature Carlile in conversation with producer/engineer Dave Way (Fiona Apple, Ringo Starr, Phoebe Bridgers, Echo in the Canyon, Sheryl Crow, Pink, "Weird Al" Yankovic). The session will take place on Thursday, April 13, 1:00-1:50 p.m. PDT, in room 204A&B on the second level of the Anaheim Convention Center.
In this TEC Tracks session, Dave Way will interview Carlile to discuss her approach to record production, lessons she has learned when shifting from artist/songwriter to producer, tips and tricks in the studio, what it takes to find "magic" in a process that can be very hard work for all involved, and the differences between producing her own music versus other artists' work. A short Q&A portion will conclude the session.
Brandi Carlile is a nine-time GRAMMY® Award-winning singer, songwriter, performer, producer, #1 New York Times Bestselling author and activist, who is known as one of music's most respected voices. Widely beloved by her peers, Carlile has collaborated closely with Joni Mitchell, Elton John, The Highwomen, Soundgarden, Alicia Keys, Marcus Mumford, Dolly Parton and more. In recent years, she has been increasingly in-demand as a record producer, helming albums by Tanya Tucker, Lucius, The Secret Sisters and Brandy Clark. The 2019 Tanya Tucker album While I'm Livin', which Carlile co-produced with Shooter Jennings, won the GRAMMY for Best Country Album (Carlile's first production GRAMMY for work with another artist). Her production work continues in earnest this year, with multiple high-profile projects in the pipeline, including the upcoming self-titled Brandy Clark LP, Tanya Tucker's recently announced June release Sweet Western Soundand others.
The NAMM Show is the largest global gathering of music products, pro audio, live sound, and entertainment technology. Held in Anaheim, California, the annual event welcomes professionals from across the crossroads of music-making. Learn more or register to attend at NAMM.org
About the moderator:
Four time GRAMMY®-winning producer/engineer Dave Way's resume runs across all genres, spanning pop, rock, R&B and more, including extensive work in the immersive Dolby Atmos® format. His credits include such acclaimed artists as Fiona Apple, Pink, Ringo Starr, Sheryl Crow, Phoebe Bridgers, "Weird Al" Yankovic, and dozens of others, in addition to the acclaimed soundtrack to Echo in the Canyon.
Media Contacts 
NAMM Public Relations
publicrelations@namm.org
 
Robert Clyne
Clyne Media, Inc.
615.300.4666
robert@clynemedia.com
 
Leslie Lewis
Leslie Lewis Consulting
310.271.1003
leslie@leslielewisconsulting.com
---
About NAMM
The National Association of Music Merchants (NAMM) is the not-for-profit association with a mission to strengthen the $17 billion music products industry. NAMM is comprised of 15,000 global member companies and individual professionals. NAMM events and members fund The NAMM Foundation's efforts to promote the pleasures and benefits of music and advance active participation in music-making across the lifespan. For more information about NAMM, please visit www.namm.org.