37th Annual TEC Award Finalists Announced and Celebrated at Summer NAMM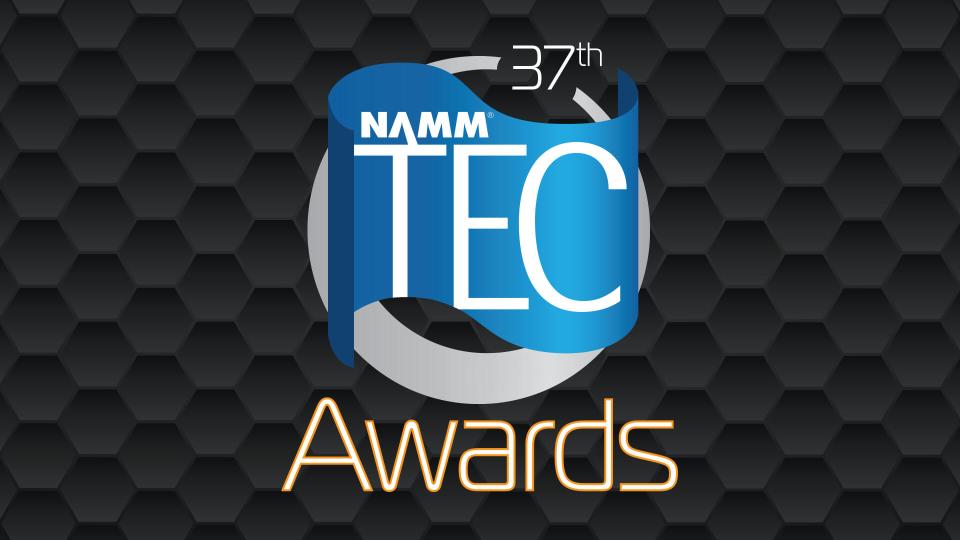 Nashville
Earlier today, NAMM announced the finalists for the 37th annual NAMM TEC (Technical Excellence and Creativity) Awards. The announcement coincided with the first day of Summer NAMM, where pro audio professionals and leading industry brands gathered, creating the ideal setting to recognize and celebrate the innovation and creativity of this year's finalists. The awards, which are presented annually during The NAMM Show in Anaheim, California, recognize the companies and technical innovations behind the sound of recordings, live performances, films, television, video games, and multi-media across 21 outstanding technical achievement, six outstanding creative achievement and Studio Design Project categories.
Each of the 28 categories will celebrate the products, technologies, and creative projects which encapsulate a spirit of continued innovation and resilience and its unique role in serving audio professionals. In a change for 2022, all finalists will be honored during the lead up and at the TEC Awards show, with one from each category earning the title of "Product of the Year."
Eric Geer, TEC nominations supervisor, shares, "Each year the TEC Awards receives hundreds of submissions with innovations that span across pro audio and sound production. Each product or project submission is unique and has a different utility, price point, and function in the marketplace. So, to determine only a singular 'winner' is an impossible task. In response, new this year, we plan to honor all innovations as finalists, an achievement in its own right. While eventually one innovation will be held up as 'Product of the Year,' this approach to the process will help us celebrate more in the community, bring attention to their advancements at The NAMM Show and promote audio and sound production worldwide."
In total, nearly 900 submissions were received for consideration in categories spanning Audio Applications to Workstation. Category finalists were evaluated by a group of industry experts from all facets of the pro audio and sound production industries. Finalists are those products and projects that, in the opinion of the panel, represent superior accomplishment in their respective fields. Changes for the 2022 Awards include the return of the Audio Education category and the newly combined Single Processing Hardware, which now includes 500 series modules.
For invited members, voting in each category will begin on November 17. "Product of the Year" honors from the 28 categories will be selected by industry professionals across major music, sound, and game audio associations, along with pro audio-focused media groups, via on online voting process powered by the third-party Broadjam.
In June during The NAMM Show, the TEC Awards will honor two individuals for their contributions to music and recording. Soon to be announced, an honoree who embodies the creative, innovative, and enterprising spirit of Les Paul will be honored with the Les Paul Innovation Award. Past Les Paul Innovation Award recipients include Joni Mitchell, Peter Frampton, Jackson Browne, Joe Perry (Aerosmith, Hollywood Vampires), Slash (Guns N' Roses), and others. The NAMM TEC Hall of Fame, which was created 37 years ago to honor the industry's most pioneering producers and audio recording professionals, will again induct an industry luminary to its list of honorees. Past recipients include Dave Pensado and Herb Trawick (Pensado's Place), Leslie Ann Jones, Jack Douglas (Aerosmith, Miles Davis), Skunk Baxter (Steely Dan, Elton John), Ed Cherney (Eric Clapton, Bob Dylan), and others.
Outstanding Technical Achievement
https://www.tecawards.org/finalists/2022/technical
Outstanding Creative Achievement
---
About NAMM
The National Association of Music Merchants (NAMM) is the not-for-profit association with a mission to strengthen the $17 billion music products industry. NAMM is comprised of 15,000 global member companies and individual professionals. NAMM events and members fund The NAMM Foundation's efforts to promote the pleasures and benefits of music and advance active participation in music-making across the lifespan. For more information about NAMM, please visit www.namm.org. The 2024 NAMM Show will be held at the Anaheim Convention Center January 25-28.