583 Districts and 135 Schools Recognized as Best Communities for Music Education by NAMM Foundation and U. of Kansas
Researchers Find that Districts and Schools Honored Have Common Traits Including Consistent Funding and Strong Community Support for Music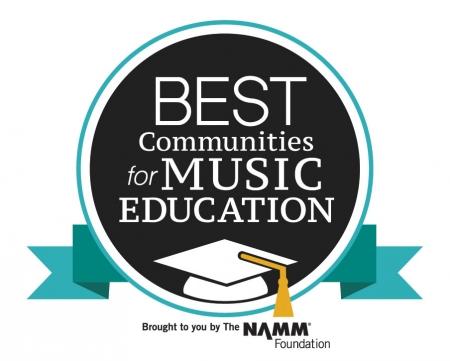 Carlsbad, CA
"…students in quality music programs are consistently more proficient in other subjects and develop many ancillary life-long skills." Kansas University Researcher and professor Christopher Johnson
CARLSBAD, Calif. (April 17, 2018) -- This week, 583 school districts and 135 schools across the nation are being recognized by The National Association of Music Merchants (NAMM) Foundation as Best Communities for Music Education (BCME). In cooperation with researchers at The Music Research Institute at the University of Kansas, and based on survey results, NAMM each year selects school districts that receive recognition as being among the Best Communities for Music Education (BCME) and individual schools who receive the SupportMusic Merit Award (SMMA).
Now in its 19th year, the awards program recognizes the outstanding efforts of teachers, administrators, parents, students and community leaders who have made music education part of the curriculum. Designations are given to districts and schools that demonstrate an exceptionally high commitment and consistent access to music education.
This year, The NAMM Foundation and the University of Kansas are recognizing school districts in 41 states, along with individual schools in 35 states and the District of Columbia. Those honored include both schools and districts that have never been recognized before, as well those that have received recognition multiple years in a row.
"The schools and districts we recognize this year – both new and repeat honorees – represent a diverse group of urban, rural and suburban districts and demographics," said Mary Luehrsen of The NAMM Foundation. "Along with a strong commitment to music education, there are two common traits that each program shares: consistent funding that anchors music education as part of the core curriculum and music programs that are located in communities where music education is viewed as a jewel of the school system. Parents, administrators and community members are proud of these local music programs and attend them regularly."
Research studies continue to demonstrate the physical, cognitive and social benefits of music making. Students who are involved in a school-based music program are not only more likely to graduate high school and attend college; also, only a few years of musical training early in life improves how the brain processes sound, even later in life. Social benefits include conflict resolution, teamwork skills and learning how to give and receive constructive criticism.
"Music and the arts are a critical component of the core curriculum, and strong community support and involvement in the arts helps build an even stronger foundation for student success in those areas of study and beyond," said KU researcher and professor Christopher Johnson. "Along with contributing to improved graduation rates and academic success, students in quality music programs are consistently more proficient in other subjects and develop many ancillary life-long skills. We have all noticed how the most involved music students are also exceptional critical thinkers and good listeners, able to persist through all kinds of adversities. The benefits of a strong music program extend far beyond the program itself, though the primary benefit will always be the unparalleled joys that good music brings to peoples' lives."
From coast to coast, schools recognized by The NAMM Foundation are engaging students and their communities through music. Whether these are students having a chance to perform with community choral, symphony and theater ensembles in Abingdon, Pennsylvania; reduced or low-cost private music lessons for needy students in Ann Arbor, Michigan; or English language learners in Grand Forks, North Dakota building new language usage skills through music education, schools and districts are creating a community of learners and showing what they have learned to the broader community.
The BCME program and the SupportMusic Merit Award evaluate schools and districts based on funding, staffing of highly qualified teachers, commitment to standards and access to music instruction.
To review the list of the 583 Best Communities in Music Education, please visit: https://www.nammfoundation.org/articles/2018districts
A list of the 135 schools receive SupportMusic Merit Awards can be found here: https://www.nammfoundation.org/articles/2018schools
---
About NAMM
The National Association of Music Merchants (NAMM) is the not-for-profit association with a mission to strengthen the $17 billion music products industry. NAMM is comprised of 15,000 global member companies and individual professionals. NAMM events and members fund The NAMM Foundation's efforts to promote the pleasures and benefits of music and advance active participation in music-making across the lifespan. For more information about NAMM, please visit www.namm.org. The 2024 NAMM Show will be held at the Anaheim Convention Center January 25-28.