Believe in Music Announces Global Livestream of Musical Performances
- 20 Artists in 20 Countries to Unite the World Through Music -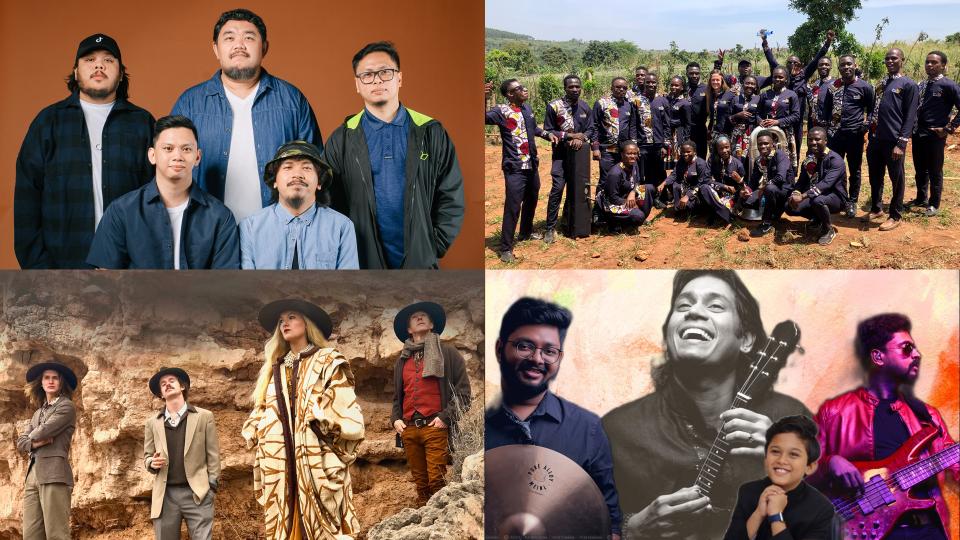 Carlsbad, CA
On Thursday, January 20 at Believe in Music, 20 artists from 20 countries will come together for five hours of livestream concert performances in a musical celebration as part of the Global Livestream. Over the course of the five-hour livestream, performers will unite the world in music.
The morning of performances will kick off at 6:00 a.m. Pacific Time with The Brass for Africa Teacher's Band. Located in Kampala, Uganda, Brass for Africa is an award-winning charitable organization creating brighter futures for disadvantaged children and young people through music education and life-skills training. From there, the livestream will turn to New South Wales, Australia, for a special performance from the melodious epic folk band, The Heart Collectors. Shortly following, Tokyo-based Keisuke Ito will perform original songs on the Shamisen, a traditional three-stringed Japanese guitar.
Other performers include Philippines-based alternative rock band Mayonnaise, a fan favorite from last year's Global Livestream; At' Adau, a fusion band from Sarawak, East Malaysia playing traditional and modern instruments; Kenyan recording artist, Apesi (Mnyama Mkali); classical and improvising accordionist Pawel Janas from Warsaw; Renegade Brass Band from the UK, combining raw hip-hop with brass instruments; Dutch pianist and composer Martin Fondse, the country's 2021/2022 "Composer Laureate," with violist Saskia Meijs; Chennai, India's Mandolin U Rajesh and his band DHRUVA playing Carnatic classical music; contemporary Mexican jazz band Troker; Peruvian ukulele star Emanuel Rivera, Argentine soul singers Fémina; and Brazil's supreme heavy metal bassist Felipe Andreoli.
Closing out the day will be a special performance from BJ Griffin, a pioneering singing and performing cellist. Griffin blends classical, jazz, and pop music, all on his cello, in a truly genre-breaking performance. From the US, Griffin will share his musical stylings and expand the boundaries of musicians to conjure even more possibilities to spread the joy of learning and making music.
A complete list of performers and schedule (subject to change) is included below.
The Global Livestream will take place on Thursday, January 20, on the Believe in Music platform, powered by Swapcard, and is free to all who would like to participate by registering at https://attend.believeinmusic.tv. All performances will be absolutely live, with the artists interacting with each other in between their sets.
Believe in Music is the online, global gathering to unite and support the people who bring music to the world. In addition to the Global Livestream, participants will have access to 50-plus interviews; professional development and training sessions for all sectors of the music products, pro audio, and entertainment technology industries; and NAMM Foundation education for music educators and administrators, nonprofit professionals, and college-aged students and faculty, among others. Education and training tracks include Business, Audio Production, and Technology, Entertainment Technology and Artists, as well as others.
The online event precedes The 2022 NAMM Show, which will be held June 3-5 in Anaheim, California. Additional information about badge and hotel registration is located here: https://ww1.namm.org/thenammshow/2022/attend
Official Hashtag: #BelieveinMusic
Registration for the Global Livestream/Believe in Music: https://attend.believeinmusic.tv
2022 Global Livestream Performance Schedule
All times are in Pacific Time zone
6:00am    The Brass for Africa Teacher's Band     Uganda     www.brassforafrica.org
6:15am    The Heart Collectors     Australia     https://theheartcollectors.com
6:30am     Keisuke Ito     Japan     https://keisuke-ito.com/
6:45am     Mayonnaise     Philippines     www.yrmusic.net/artists/mayonnaise
7:00am     At' Adu     Malaysia     www.atadau.com
7:15am     Apesi (Mnyama Mkali)     Kenya     https://www.instagram.com/apesi_mnyamamkali/
7:30am     Janna Berger aka. [sk:rt]     Germany     www.jannaberger.com 
7:45am     Pawel Janas     Poland     www.paweljanas.net
8:00am     The Leadbellys     Italy 
8:15am     Renegade Brass Band     Great Britain     www.renegadebrassband.com 
8:30am     Saskia Meijs & Martin Fondse     The Netherlands     www.villasonora.nl
8:45am     EKA MOE     Bulgaria
9:00am     Resonant Sound Alchemy     United Arab Emirates 
9:15am     DHRUVA     India     https://www.mandolinbrothers.in/   
9:30am     Fémina     Argentina     https://www.instagram.com/feminamusica/
9:45am     Felipe Andreoli     Brazil     https://www.felipeandreoli.com
10:00am     Emanuel Rivera     Peru     https://linktr.ee/emanuelrimusica
10:15am     Troker     Mexico     http://troker.com.mx/ 
10:30am     Mimi O'Bonsawin      Canada     https://www.mimi.ca
10:45am     BJ Griffin     United States     www.bjgriffinmusic.com
---
About NAMM
The National Association of Music Merchants (NAMM) is the not-for-profit association with a mission to strengthen the $17 billion music products industry. NAMM is comprised of 15,000 global member companies and individual professionals. NAMM events and members fund The NAMM Foundation's efforts to promote the pleasures and benefits of music and advance active participation in music-making across the lifespan. For more information about NAMM, please visit www.namm.org. The 2024 NAMM Show will be held at the Anaheim Convention Center January 25-28.