Believe in Music Previews Professional Development Sessions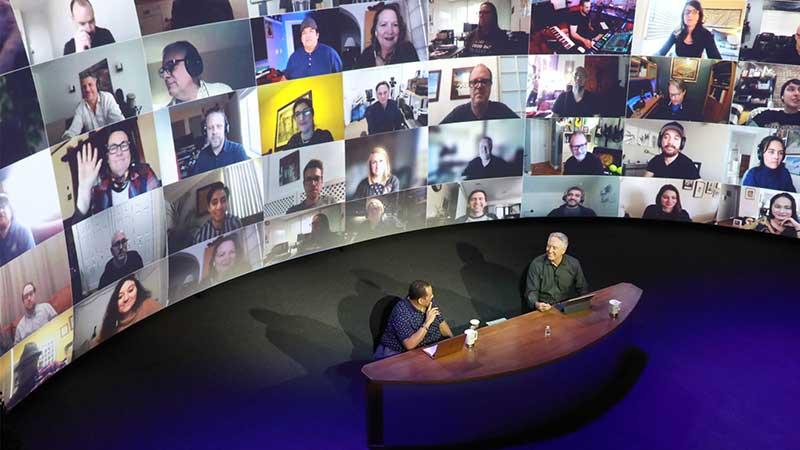 Carlsbad, CA
Ahead of The 2022 NAMM Show, Believe in Music, the global online gathering to unify and support the people who bring music to the world, returns on Thursday, January 20 and Friday, January 21, with replay available through the weekend. The event will feature a combination of livestreamed interviews and performances, brand pages and educational sessions to serve all sectors of the music products, pro audio and entertainment technology industries, as well as music educators and administrators, nonprofit professionals, college-aged students and faculty, and music makers and advocates. Registration for Believe in Music is free and now open at https://attend.believeinmusic.tv.
Featured on the Believe in Music platform, professionals will have access to the strategies and tools to further their businesses and careers by connecting with top thought leaders to meet challenges and thrive in any climate. Believe in Music will offer four tracks of education for professionals in the music products, pro audio and live event production industries: Business, Audio Production and Music Technology, and Entertainment Technology. For music educators and advocates, non-profits and college-aged students and faculty, The NAMM Foundation presents sessions in GenNext, Music Education Days, Music & Social Justice, the Nonprofit Management Institute, and Music & Wellness.
BUSINESS TRACK
The Business Track will bring together the top minds in the industry to offer actionable strategies, tactics and best practices for music retailers and brands to navigate to the next level. At the heart of the track are NAMM U sessions on pressing topics, including a special, keynote-style session from author, futurist and "Retail Prophet" Doug Stephens, "The Customer of the Future." Stephens will uncover key shifts in demographics, technology, economics and media, all of which are changing the very essence of how your customers buy as we emerge from the pandemic.
Other top-of-mind sessions include "How to Use Facebook Ads to Increase Your Lesson Students" from Ayana Webb of The Musical Webb; "Social Media, Video and Digital Ads: 5 Keys to Online Marketing for 2022" with Tracy Hoeft of Amplify 11; and Dennis Stafford of Organiksol Marketing, who will present "Music Retail: How to Put Artist and Influencer Marketing to Work."
AUDIO PRODUCTION AND MUSIC TECHNOLOGY TRACK
Audio professionals will also be able to grow and hone their skills in pro audio and technology. Sessions for recording, live sound and house of worship professionals, as well as music technologists, will dive into the latest tools, tips and innovations while also exploring the landscape of new technology. Programs include:
TEC Tracks
TEC Tracks will offer big-picture sessions and high-profile topics in recording, live sound and music business, featuring industry thought leaders. Highlights include interviews with top producers, engineers and artists, including "The Future of Mastering" with GRAMMY Award winner and eight-time nominee Emily Lazar; "The Future of Music and Challenges in the Next 5 Years" with SoundExchange CEO Michael Huppe; and "Post-COVID Live Sound Tour Trends," featuring industry touring vets Robert Scovill and Mark Frink.
A3E (Advanced Audio + Applications Exchange)
For the future-minded, A3E will feature future-forward education on how next-generation content creation is reshaping the entertainment industry. In a special session, industry leaders Jack Joseph Puig, GRAMMY Award-winning producer, engineer and the vice president of creative innovation at Waves Consumer; Daniel Rowland, Oscar-winning engineer, producer and the head of strategy and partnerships at LANDR Audio; and Maya Ackerman, CEO and co-founder of WaveAI and a Woman of Influence in 2020, will present a robust discussion of "Artificial Intelligence, Artificial Creativity and Their Impact on Music and Content Creation: Deep Dive Data Analysis."
ENTERTAINMENT TECHNOLOGY TRACK
Entertainment Services and Technology Association (ESTA)
ESTA will feature two in-depth educational sessions for entertainment technology and design professionals, as well as those responsible for their safety, including "50 Years of Show Technology Evolution: Have We Reached a Maturity Point?" Join expert John Huntington of City Tech and author of Show Networks and Control Systems and Introduction to Show Networking as he presents his research via a detailed show technology history timeline documenting the trends, looking at where we are now and speculating about the future.
Pro Production Sessions
Front of House and Projection, Lights & Staging News magazines will welcome Chris Lose, live entertainment production expert, and Phay MacMahon of Phamous Productions as they discuss how you can reduce stress on the road at "How to Take the Stress Out of Touring." The duo will explore how artists and their crew can work together more effectively to ensure their needs are being met. They'll discuss how to get everyone on the same page, looking at everything from creating a well-laid-out rider to music breakdowns—vital elements of a successful tour.
Event Safety Alliance (ESA)
The Event Safety Alliance (ESA) will address safety in event design, risk management, and the importance of communication in "Stop the Show: The Who, When and How of Show-Stop Procedure." In this session, Jim Digby and Steven Adelman of the Event Safety Alliance will discuss the importance of a pre-established show-stop procedure. They'll cover who needs to be involved in the decision, the circumstances when you would consider using it and how to manage crowd expectations to avoid even worse unintended consequences.
THE NAMM FOUNDATION TRACKS
The NAMM Foundation will present several mini tracks of professional development designed to serve those in music and arts advocacy, management and education, social justice, and emerging professionals. Tracks include:
GenNext
A collaboration between The NAMM Foundation and The College Music Society (CMS), the education series will offer college-aged students and faculty access to career—and professional development—opportunities. Program highlights include "Big Ideas to Improve Accessibility From Yamaha Master Educators," "Finding Your Fit: Careers in the Music Industry," "What's It Like Out There? Insights From College Music Program Recent Graduates" and "Preparing Music Students for a 21st Century Income," among others.
Music Education Days
School music teachers and administrators will take part in informative sessions, inspiring performances and the opportunity to preview the latest instruments, products and tools relevant to today's changing music classrooms. The track will feature "Music-Making for All: Ukulele Strings Attached!," where specialists Peter Luongo and James Hill will share the Teaching Ukulele Workshops to be offered at The 2022 NAMM Show. The pair will offer classroom-tested techniques to develop ear training, notation reading, vocal harmony and theory into your program from the very start. Other sessions include "Music Administrators Forum: Support Music Education," where administrators and arts leaders will discuss the challenges and opportunities to provide quality access to music and arts instruction during this time, and "TECHnically, It's About the Individual and the Ensemble" where Technology In Music Education (TI:ME) will present how to engage students with technology in multiple ways.
Music and Social Justice & Nonprofit Management Institute
Music has always played a key role in ushering in societal change. As part of the Nonprofit Management Institute, the Music and Social Justice track invites participants to participate in conversations about diversity and inclusion with leaders of cultural organizations. In a special session, "Embracing Diversity, Equity and Opportunity: Building a Sustainable Ecosystem," panelists will discuss exemplars that illuminate diversity, equity, inclusion, opportunity and access as key elements of sustainability.
Music and Wellness
Music and Wellness will explore better living through music for lifelong learners seeking health enrichment. The track will feature "Start Your Day with Rhythm—A Wellness Experience With Drumming," where author and music therapist Christine Stevens will guide the audience on a live musical journey to release stress, connect with the heart and deepen your body's healing potential.
In addition to the education sessions, Believe in Music will return with the Global Livestream, featuring artist performances from around-the-world, special artist interviews, surprise guests and an anchor desk hosted by NAMM President and CEO Joe Lamond, and the co-founder of Pensado's Place, Herb Trawick.
The schedule for Believe in Music week sessions and events will be published in early January at NAMM.org and on BelieveinMusic.tv. Registration is free to all, and now open at https://attend.believeinmusic.tv/.
---
About NAMM
The National Association of Music Merchants (NAMM) is the not-for-profit association with a mission to strengthen the $17 billion music products industry. NAMM is comprised of 15,000 global member companies and individual professionals. NAMM events and members fund The NAMM Foundation's efforts to promote the pleasures and benefits of music and advance active participation in music-making across the lifespan. For more information about NAMM, please visit www.namm.org. The 2024 NAMM Show will be held at the Anaheim Convention Center January 25-28.