Believe in Music Week: The Online Global Gathering to Unify and Support the People Who Bring Music to the World Concludes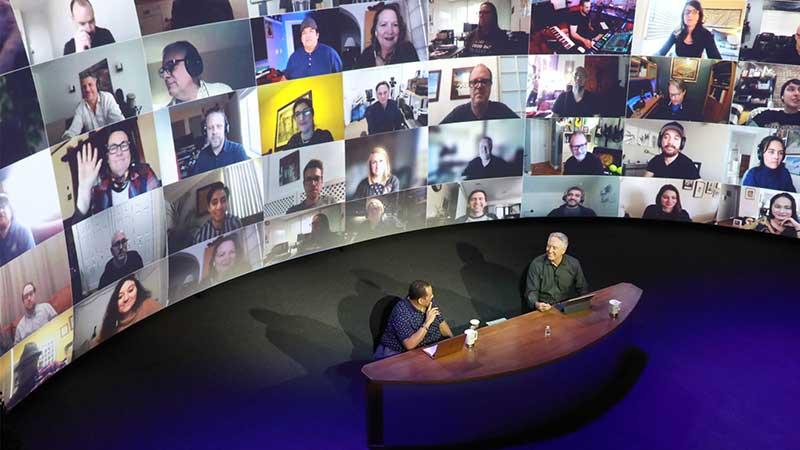 Carlsbad, CA
A convergence of 93,226 industry leaders, buyers, sellers, music educators, artists, media and music makers from 187 countries and territories gathered this past week to take part in NAMM's Believe in Music week, the online, global gathering to unify and support the people who bring music to the world. The event, which spanned Monday, January 18 – Friday, January 22, saw industry professionals virtually convene in 983 special sessions and events, engage with 611 hours of live-streamed and programmed content, which included nearly 200 education, training and professional development sessions presented by 391 speakers, and experience new products from 1,227 participating brands in the Marketplace, all to celebrate the power and resilience of music and to plan for the year ahead.
"While we knew we could not truly replicate The NAMM Show, we felt that this unprecedented time made it even more important for us to gather the global industry with a Marketplace to launch new products, provide an extraordinary education campus and to bring everyone together as a community to promote music and to set the stage for industry recovery and growth," said Joe Lamond, NAMM President and CEO. 'What surprised me the most was the incredible amount of quality content that was created by NAMM and our members for Believe Week and the fact that we might have inadvertently just created the best music social network out there!"
Chris Martin, NAMM Chair and CEO of Martin Guitar, said, "As you may have heard, the guitar business is pretty good despite the ongoing challenges of the pandemic. While some of us are doing ok, other members of our association and the communities they serve to continue to struggle. Believe in Music week served to help those in need while benefiting the industry at-large with education and the opportunities to connect."
With its mission to support the people who bring music to the world, generous members and participants raised or pledged nearly $500,000 in matched funds for 12 nonprofit beneficiary organizations as well as other NAMM Foundation charities that work to advance access to music-making. The idea for the matching campaign was conceived and led by NAMM Chair and CEO of Martin Guitars, Chris Martin. After witnessing the devastating impact of COVID-19 across the industry, Chris and Diane Martin offered a personal donation of $100,000 to kick-off the giveback campaign and matching program. Industry leaders who answered the call to donate include Joe Castronovo, Korg USA; JC Curleigh, Gibson; David Kalt; Chris Lombardi, Drum Workshop; Joel Menchey, Menchey Music Service; Tom Sumner, Yamaha; Chuck Surack, Sweetwater; Chris White, White House of Music; and Andy Zildjian, Sabian; and others, as the donations continued to come in in the days after Believe week. Read the release here.
On the opening day of Believe TV, Fred and Dinah Gretsch, the Gretsch Company and Jerry Ash and the Ash Family also announced the creation of the Bernice Ash Memorial Scholarship Fund in The NAMM Foundation.
The event took place on the Swapcard platform and created a social network of industry activity from members found across the globe to network, learn and be inspired. At press time, 33,379 international registrants - from Afghanistan to Zimbabwe - representing over 187 countries and territories - attended.
"The Yamaha team put a ton of effort into bringing our dealers and customers a great experience at Believe in Music week. Our team members met with hundreds of our dealers and many of them noted they were the best meetings they have ever had—either in person or virtual. And tens of thousands of customers dug into the content we presented in our 11 virtual booths," shared Tom Sumner, President of Yamaha Corporation of America. "Customer reaction to our Night of Worship featuring the Jason Lovins Band and We the Kingdom really connected with people and our documentary The Sound of Us was a moving experience for anyone that plays or just loves music. The Yamaha team was really pleased with this virtual version of our most important event of the year."
"The NAMM team's creativity represents the best of 'the show must go on' spirit by providing HARMAN and the rest of the industry with a platform on which we can connect with our customers," said David Glaubke, director of corporate communications, HARMAN. "Believe in Music week is a brilliant use of technology that brings forward programs and products to individuals who might not ordinarily have the opportunity to attend the show. While we wish we are all together in Anaheim, we are pleased that NAMM was committed to delivering the best possible experience."
Juliana Kaltakhchan of Slovenia-based Flight Ukuleles offered, "The show has exceeded our expectations! We feel like the platform helped us reach some people we wouldn't be able to reach otherwise, and we had interesting meetings, which should help us grow and expand our business. As a smaller and newer company, we get inspired by seeing veteran brands that we look up to. Seeing the positive response to our ukuleles in this event truly helps validate the hard work we put in and it motivates us for the upcoming year."
Alan Macpherson, CEO of L-Acoustics Americas, said, "This year, rising to a new challenge with its Believe in Music week, NAMM proposed a well-thought-out alternative to the in-person show and has accompanied us as we built our show presence. The new format is providing excellent opportunities for interaction with new and existing clients and a platform for us to present our products and services to a wide and varied audience. L-Acoustics is proud to be part of Believe in Music!"
"Believe in Music has proven to be a valuable experience for our brands. The overwhelmingly positive response to the virtual show proves how strong our industry is and how fierce our desire to connect with fellow music makers is. The engagement and ability to watch sessions live or on-demand bring even more value to the experience," shared Morgan Walker of KORG USA. "By supporting this event, we support NAMM's mission to strengthen the music products industry and promote the benefits of making music. The more we can support getting instruments in the hands of younger generations, the more we can support our dealers."
"As they say in the music business, 'the show must go on' even if it means trying something completely different," said James "JC" Curleigh, President and CEO of Gibson Brands. "The team at NAMM truly demonstrated the right balance of professionalism, passion, and perseverance for virtual NAMM 2021. We all Believe in Music!."
At the Marketplace, the latest technologies and gear were presented across brand experience pages, showcasing brand stories and information, along with special events. At press time, 768 brand events were held throughout the week.
Mitch Gallagher of Sweetwater offered "Believe In Music week was a tremendous opportunity for everyone — not just the trade — to take part in the excitement of NAMM! Believe In Music brought us all the new gear we love and crave, along with a critical element for anyone interested in playing, writing, or recording music: inspiration. More than a substitute for the traditional trade show, Believe in Music week established a new venue for manufacturers, retailers, press, and music-makers to connect, interact, and learn from one another. A huge success!"
"We've been thoroughly impressed with the overall virtual experience of NAMM: Believe in Music week," said Abby Kaplan, VP of Global Retail Sales at Shure. "While we miss seeing everyone in person, we have still been able to connect with customers, introduce them to our products, and do planning with our channel partners. The well-thought-out digital platform has enabled us to continue conducting giveaways, live streams, and live chats to new customers as if we were in person. We are optimistic about the year ahead and look forward to seeing everyone in 2022."
"Each time that I've attended the NAMM Show, I've been inspired by how the gear community comes together to collaborate and grow, and I've got to say that this year—while very different from years past—is no less remarkable. The musical instrument industry has faced many challenges over the past year and the fact that all of us still found a way to safely come together for Believe in Music week demonstrates the true resilience of this industry. While we are in regular contact with the buyers and sellers on Reverb all year, this event always serves as a wonderful opportunity to meet with dealers and brands to discuss new ways to inspire more people with music gear," offered David Mandelbrot, Chief Executive Officer at Reverb.
Networking was top-of-mind for many. David Jahnke of Hal Leonard shared, "While nothing can replace the in-person experience, BIM week has given us the opportunity to introduce ourselves to members of the music retail and educational community that might not have the opportunity to go to NAMM. Virtual BIM has been the next best thing to being there."
Leslie Stirm of Instrumental Music Center echoed that enthusiasm. "The best part of BIM week is that it sparked excitement! It's been a tough year, and it's been hard to generate excitement about talking to vendors because we didn't have much good news to report. Believe in Music week felt like a virtual NAMM show! We had meetings both on and off the platform, and it was robust, innovative and well thought out! My staff and I attended AIMM meetings, vendor meetings, educational sessions, Top 100 Dealer Awards, and I presented at the Best in Show. It has helped our business flush 2020 down the drain and refreshes our focus on the future."
"We've already gained new customers from the platform and our sessions through Believe in Music week!" said Troy Sheets of Playtime Sheets.
Tim Spicer of Spicer's Music shared, "Taking part in Believe in Music week has been an exceptional experience! First of all, Believe in Music gives us a unique opportunity to take advantage of many of the NAMM Show perks while still being present in our business. I've been able to meet with reps, check out new gear, network, reconnect with old friends and meet some new friends, and get inspired by many of the education sessions. I can do all of this while still being present in my business and interacting with my team and my customers."
"Believe in Music week vastly exceeded my expectations, packed with valuable information, education and in-depth product seminars. It truly felt like a global music community connected by this platform that became a social network for the music industry and attendees," said Chris Tso of Full Compass. "This was a great way for our staff to participate, gain skills we can use today and a powerful way to promote the benefits of making music."
Three main TV stations, Believe, Artist, and Gear TV, offered live interviews, new gear features and special performances. On Thursday and Friday, Believe TV served as the main hub of activity and featured the likes of Lamond and co-host Herb Trawick (Pensado's Place) for two full days of industry updates, interviews with "Unsung Heroes," and a series of special events. Each morning began from the live anchor desk at Gnarlywood Studios in Carlsbad, California, featuring live interviews with multi-platinum, GRAMMY® award winners Garth Brooks and Melissa Etheridge as the recipients of 2021's "Music for Life" award. In his interview, Brooks, who was fresh off a celebratory performance for the U.S. Presidential Inauguration the previous day, told stories of adaptation and recognized the importance of his tour team and bandmates, as well as the best advice he could offer emerging leaders in the industry. "The Bottom line: treat people the way you want to be treated. Make people feel the way you want to feel… If you truly get this gig… give it every chance you take the stage -- it may be your last -- get everything out of it that you can...leave it all on the stage."
On the future of live concerts, he remarked, "You never know what's going to come in life. In the future, I will approach playing again like I never have before because it's never been taken away from me... so get ready. It's going to be a flurry of activity like you've never seen from artists, fans, everybody - get ready, I can't wait."
On Friday morning, Gibson Brands President and CEO James "JC" Curleigh shared his thoughts on the state of the industry and a rising generation of new creators and players, and ways to connect. After, Melissa Etheridge joined Lamond and Trawick for a live interview on her career, the pandemic, and pivoting to her online platform, Etheridge TV, where she performs three times per week for fans. In the interview, she shared her thoughts on her career and why music is so important: "What we do is so important, and it has been through all through time – can you imagine a life without music? We have a gift, and that gift has to be given, shared to be experienced. I give thanks every day that I get to do this every day." Etheridge closed the interview with an abridged performance of her hit, "Come to My Window." Following the interview and performance, a special Martin Guitars Jam in Place featured a performance from guitarist John Mayer.
Brooks and Etheridge joined other artists at Believe week, including Glen Ballard; Jackson Browne; Chick Corea; deadmau5; Nathan East; Lzzy Hale; Orianthi; Patrice Rushen; Billy Bob Thornton; Diane Warren; and more. Legendary composer Mel Brooks, presented by Hal Leonard, shared the story behind some of his most memorable compositions; Jimmy Jam and Terry Lewis, presented by Roland, discussed the intersection of the artist and product relationship; and keys legends Herbie Hancock, Greg Phillinganes, James Poyser, Terrace Martin, and Robert Glasper joined Korg to discuss their approach to making music.
International artists also enthusiastically joined the Believe TV celebration in a series of performances, including a show by GRAMMY® award winner Wu Tong, India's largest YouTube band, Sanam, as well as percussion legends, including Gino Banks, Taufiq Qureshi, who played a session with Louiz Banks, and Brazil-based jazz guitarist, Dney Bitencourt.
Education to Meet the Challenges of Today and the Opportunities of Tomorrow
With industry experts participating in Believe week, members had the opportunity to connect with thought leaders through nearly 200 education sessions designed to engage, inform and inspire new ideas, as well as to further careers and prepare for the future.
For many, the virtual platform allowed for a deeper-dive across the education channels. Lauren Haas Amanfoh of Royalton Music Center said that "The format of Believe in Music week allows me to be in many places at one time - something that is impossible to do at a physical NAMM Show. It has been wonderful to be able to watch a session on-demand after its premiere, so we don't miss any of the tremendous speakers, sessions, and performances."
Business for the New Future
The NAMM U Business Track brought together top minds to offer actionable strategies, tactics, and best practices for music retailers and brands to navigate to the next level. At the heart of the track were sessions on pressing topics, including "SEO Tips for 2021" by SEO expert Bill Sebald;
"E-mail Marketing Tips to Increase Sales by 3x" by Ayana Webb of The Musical Webb; and a variety of sessions themed to online marketing and social media strategy, branding, virtual lesson programs, and creative ways to manage inventory and cash during a pandemic. Bob Phibbs, "The Retail Doctor," and New York Times best-selling author Scott Stratten also returned for special sessions.
Audio Production and Technology Track
Sessions for recording, live sound, house of worship professionals, and music technologists dove into the latest tools, tips, and innovations while also exploring the landscape of new technology. Programs included TEC Tracks, which offered big-picture sessions and high-profile topics in recording, live sound, and music business, featuring industry thought leaders. Highlights included interviews with top producers, engineers, and artists, including Dave Cobb, Craig Bauer, John Boylan, Suzanne Ciani, and Peter Asher, and live streaming and remote music production tips sessions for house of worship audio professionals. A3E (Advanced Audio + Applications Exchange) featured future-forward education on how next-generation content creation is reshaping the entertainment industry. AES (Audio Engineering Society) presented educational sessions on key topics for audio professionals, including streaming live performances and new music industry business models; and Dante Training from Audinate featured free Dante certification training of its leading audio-video network solution.
Entertainment Technology Track
A suite of sessions curated by ESTA (Entertainment Services and Technology Association), along with Pro Production Sessions presented by Front of House and Projection Lights & Staging News magazines, and Lighting&Sound America/PLASA, offered entertainment technology professionals a range of knowledge and credit opportunities.
ESTA offered in-depth training sessions for lighting, production, safety, and rigging professionals. Just a few sessions in its extensive program included "Introduction to Show Network System Design," "Rigging Math," "Planning for Pyro Forces on Structures," "How to Make a Bridle," and "DMX512 Compliance and Controlling Color." The Pro Production Sessions and its experts from Front of House, Projection, Lights & Staging News, and Stage Directions magazines presented interviews and behind-the-scenes presentations with leading names in entertainment production and technology. Among the highlights, Pro Production Sessions covered the uses of XR (extended reality) technology that's redefining the possibilities of live production environments, along with solutions for successful remote collaboration, even from across the world; and Lighting&Sound America (LSA) and PLASA offered powerful, bite-sized mini-training sessions on the most important topics in entertainment technology from LSA's Technical Editor Richard Cadena.
In a first, the Event Safety Alliance (ESA) and Show Makers, resources for the live event community, joined the NAMM event. The ESA shared a suite of educational sessions with a diverse roster of academics and industry professionals that explored critical issues within the live event space, including safety in production design, risk management, COVID-19 mitigation planning, and more. Show Makers offered a roster of concert industry professionals who delivered Show Maker-curated sessions and mentoring, designed to unite, uplift, and strengthen those who work in entertainment production. This included sessions on touring, careers, leadership, mental health, and more.
Artist Track
For emerging and established artists, songwriters, and studio musicians, the Artist track covered the new music industry landscape and tips for success. Presenters included Suzanne Ciani, Russ Kunkel, and Leland Sklar, and just a few topics included getting on a streaming playlist, making a living in the new music industry, looping techniques and music release strategies for a streaming world.
The NAMM Foundation Track
Music and arts advocates, nonprofit management, and music education professionals joined in 53 sessions and special events from The NAMM Foundation track. The programming included GenNext, a collaboration between The Foundation and The College Music Society (CMS), which offered college-aged students and faculty access to career and professional development opportunities; Music Education Days for school music teachers and administrators to preview the latest instruments, products, and tools relevant to today's changing music classrooms; Music and Social Justice to discuss diversity and inclusion, and the role of music; Music and Wellness, to explore better living through music for lifelong learners seeking health enrichment; and the Nonprofit Management Institute to provide music nonprofits resources to grow and succeed.
Notable Believe in Music Moments
Wednesday, January 20, kicked off with a 12-hour long Global Livestream featuring over 40 artists from 23 countries and six continents. The stream began with 11-time Australian Blues Music award-winner and "Oz Roots & Blues Icon" Lloyd Spiegeland made its way around-the-globe featuring the likes of Brass for Africa, an Uganda-based music charity that delivers music education with integrated life-skills training to over 1,000 young people in Uganda, Liberia and Rwanda; NEEDSHES, a Moscow-based alt-rock band from Uzbekistan; veteran Filipino alt-rock band Mayonnaise; Lithuanian pop sensation and actress Jurga; Turkish jazz guitarist Cem Tuncer; Spain's flamenco-inspired singer-songwriter El Kanka; Peru's emerging hip hop artist A.C.O.; acclaimed New York jazz and classical pianist and composer, Dan Tepfer; and North Carolina's guitar sorceress Christie Lenée, among others.
On Thursday morning, 15 Taylor Guitars artists, including Jon Foreman (Switchfoot), Keith Goodwin (Good Old War), and Taylor's own Andy Powers, performed "I Know What Love Is," an anthem inspired by the COVID pandemic. The performance, which included a small and socially-distanced audience, marked the global debut of the new song, which features 50 artists including Zac Brown, Jason Mraz, KT Tunstall and others, with all proceeds from sales of the single benefiting MusiCares.
Later in the day, composer, conductor, lyricist, and creator of the Virtual Choir, Eric Whitacre, alongside ground-breaking singer-songwriter Imogen Heap, took part in a special session, "The Golden Brick." In the session, Whitacre, who is one of the world's most performed composers, shared the creative process that he uses to create unforgettable compositions, known as "The Golden Brick." Whitacre challenged Heap, known for her creative and pioneering compositions in electropop music, to take the four-note challenge and build a song around her "brick."
At the session, Whitacre shared his creative insight with the audience. "When most people think about creativity, they think about the cinematic version: the Gods gifting immortal fire to a willing composer. Truth be told, the angels are in the details. The key factor to creativity is trying to work within the tightest constraints possible; only then do we adapt and thrive."
Also on Thursday, pianists joined together for a global celebration unlike any other at Worldful of Pianos. The event, held in an online video environment, featured five luminaries streamed live from the Steinway & Sons Piano Factory in New York. In total, 110 pianists from Canada, France, Greece, Haiti, India, Iran, Ireland, Israel, Italy, Mexico, Russia, Singapore, South Korea, Spain, St. Maarten, Tunisia, United Kingdom, and the United States participated by downloading Mozart's Rondo Alla Turca, enabling them to play along with the ensemble during the live event.
On Friday, the celebratory gathering of The Grand Rally for Music Education was held. The annual event welcomed world-renowned soprano Renée Fleming, in conversation with music researcher Dr. Nina Kraus of Northwestern University; and Gustavo Dudamel, artistic and music director of the Los Angeles Philharmonic, in conversation with Liliana Morales, an alumna of YOLA (Youth Orchestra Los Angeles), Maestro Dudamel's El Sistema-inspired education program. As part of two interview segments, Ms. Fleming and Dr. Kraus shared the vital role of music in learning for people of all ages, including updates on current research on its impact and benefits. Maestro Dudamel and Ms. Morales offered their perspectives on the importance of music during this time of the pandemic, music's role in addressing social justice and, why music education is a fundamental right for all children.
Speaking of his start as a child in El Sistema, Dudamel shared, "I remember my first time playing... I played only three notes of the violin, maybe. I remember being surrounded by all of the sounds in an orchestra of 600 musicians, and that first moment, when I was surrounded by that beauty and the sound, completely changed my life. [That opportunity] was the genesis that leads me to a life in music… it has been a beautiful journey to the podium."
Following the celebration, Yamaha Entertainment Group debuted The Sound of Us, a powerful documentary directed by nine-time Emmy award-winning producer and Yamaha Artist Relations Group/Yamaha Entertainment Group's chief artist relations executive Chris Gero. The film illustrates that during this critical time in history, music gives sound to hope and courage, allows us to grieve and be honest, and is the great, universal language that unites us all. The documentary featured interviews and performances with well-known artists including Ben Folds, Hiromi, Sarah McLachlan, Preservation Hall Jazz Band, Antonio Sanchez, Patti Smith, Avery*Sunshine, Butch Walker, Eric Whitacre, and Will Wells.
Honoring the Industry's Leaders and Innovators
The Top 100 Awards made its move to Believe TV in a live broadcast, which saw the industry virtually gathered to celebrate the spirit of the music retailer and to applaud their accomplishments, resilience, and commitment to serving music makers.
At the awards, Five Star Guitars received the coveted "Dealer of the Year" award. Owner Geoff Metts accepted the award and shared, "We're truly honored - It's thrilling. It's been a year that's been so full of turmoil, and that's…I'm just at a loss for words. I would like to thank the staff and everyone who has supported our business. This award means a great deal for all of us."
The afternoon's other recipients included Santa Monica Music Center, "Best Community Retail Store;" Amro Music Stores, Inc., "Best Customer Service;" Heid Music Company, Inc., "Best Marketing and Sales Promotion;" Andertons Music Co. "Best Online Engagement" and "Customers Choice Award;" Drum Center of Portsmouth, "Best Store Design;" Royalton Music Center, "Innovation Award;" and The Candyman Strings & Things "Music Makes a Difference Award." Read the full release here.
On Friday, at the 36th TEC Awards, a 35-year retrospective was presented, and winners in 22 technical and seven creative excellence categories were announced and honored. The annual event recognizes the exemplary achievements and innovations behind the sound of recordings, live performances, films, television, video games and multi-media. See the full list of winners here.
Also on Friday, the Parnelli Awards honored past award recipients in special event, "Keep the Torch Lit, 20 Years of Parnelli Awards" retrospective. The two-decade highlight reel also offered a memorial video saying goodbye to those we've lost this year, and some well-wishes and words from Parnelli Awards Executive Producer Terry Lowe, Chairman of the Board of Advisors Marshall Bissett, and TPI's Michael and Elizabeth O'Keefe.
Closing out the week, the evening featured a celebration of outstanding women in the industry at the She Rocks Awards. The 9th annual awards show was hosted by Lzzy Hale (HALESTORM) and Lyndsey Parker (Yahoo! Entertainment) and honored The Go-Go's, Heart's Nancy Wilson, Amy Lee of Evanescence, Cherie Currie from The Runaways, comedian Margaret Cho, drummer Cindy Blackman Santana, and others.
Future Outlook
Tune-in Monday, January 25 at 10:00 a.m. PT for the "Best in Show" panel session to see the biggest products and technologies in the Believe in Music Marketplace as chosen by a panel of industry gear experts.
At present, the industry looks forward to gathering in Nashville at Summer NAMM, July 15-17, 2021, at Music City Center.
Until then, band together on the Believe in Music platform, open to all until February 28, 2021.
FACTS AT A GLANCE (At press time)
93,226 Attendees
1,227 Brands
Nearly $500,000 in Donations Raised
33,379 International Attendees
187 Countries and Territories
768 Brand Events
611 Hours of Content
36 Hours of Livestream
983 Sessions and Events
391 Speakers
#BelieveinMusic
---
About NAMM
The National Association of Music Merchants (NAMM) is the not-for-profit association with a mission to strengthen the $17 billion music products industry. NAMM is comprised of 15,000 global member companies and individual professionals. NAMM events and members fund The NAMM Foundation's efforts to promote the pleasures and benefits of music and advance active participation in music-making across the lifespan. For more information about NAMM, please visit www.namm.org.