Buildings and Landmarks Across the United States to Shine Orange on Tuesday, June 21 for Make Music Day
Thousands of Live, Free, In-Person Outdoor Music Making Events to Launch Summer in 100+ U.S. Cities and Mark Festival's 40th Anniversary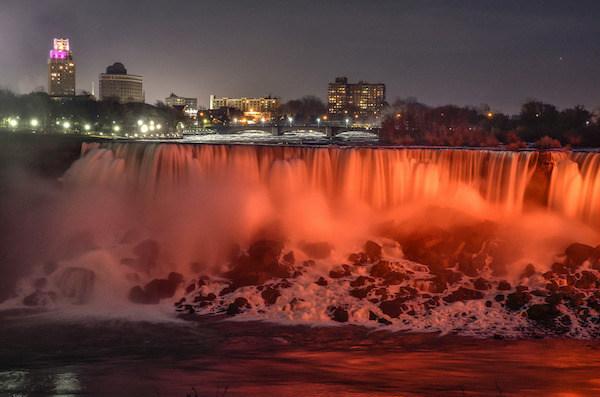 Carlsbad, CA
Over 55 iconic buildings and landmarks across the United States, including Niagara Falls (New York), Ponce City Market (Georgia), NASCAR Hall of Fame (North Carolina), Long Beach Convention Center (California), and 875 North Michigan Avenue (Illinois) will turn orange in support of 'Make Music Day,' the worldwide festival of music held annually on the summer solstice, Tuesday, June 21.
"We are thrilled that Make Music Day is back in full force, and receiving so much involvement from coast to coast," said Make Music Alliance President Aaron Friedman. "By lighting up orange, buildings and landmarks are providing visual support for Make Music Day, helping to build excitement and stir up civic pride."
Encompassing thousands of free outdoor concerts, performances, music lessons, and jam sessions nationwide, the daylong musical celebration on June 21 will be held in more than 100 U.S. cities – with the flagship event in New York City – and participation from the entire states of Connecticut, Hawaii, New Mexico, Vermont and Wisconsin.
Completely different from a traditional music festival, Make Music Day celebrates and promotes the natural music maker in all of us, regardless of age, ethnicity, background or skill level. Make Music Day is a free and open invitation for everyone to make, enjoy, perform, teach, learn and experience the joy of making music on the longest day of the year.
U.S. buildings and landmarks shining orange — a color evoking the sun and the first day of summer — will include:
· Niagara Falls in Buffalo (NY)
· King and Queen towers and Ponce City Market in Atlanta (GA)
· Wells Fargo Duke Energy Center, NASCAR Hall of Fame and Romare Bearden Park Fountain in Charlotte (NC)
· The Block and Liberty Tower in Chattanooga (TN)
· 875 North Michigan Avenue in Chicago (IL)
· Duke Energy Convention Center, Covedale Center for the Performing Arts and Warsaw Federal Incline Theater in Cincinnati (OH)
· Astoria Column in Clatsop County (OR)
· McNichols Civic Center Building, The Ellie Caulkins Opera House and The Buell Theatre at the Denver Arts Complex in Denver (CO)
· Stilts Tower in Hartford (CT)
· City Hall Fountain in Liberty (MO)
· City Hall in Las Cruces (NM)
· Long Beach Convention Center in Long Beach (CA)
· Madison Municipal Building and the Overture Center for the Arts in Madison (WI)
· Milwaukee County Historical Society and Pfister Hotel in Milwaukee (WI)
· Capella Tower, I-35W Bridge and Lowry Avenue Bridge in Minneapolis / St. Paul (MN)
· RSA Battle Tower and RSA Van Antwerp Building in Mobile (AL)
· RSA Dexter Ave. Building, RSA Systems Building and RSA Tower Building in Montgomery (AL)
· Korean War Veterans Memorial Bridge in Nashville (TN)
· RiseNY's Statue of Liberty Torch re-creation on its marque in New York (NY)
· Cira Centre, Cira Garage and FMC Tower in Philadelphia (PA)
· Gulf Tower, Koppers Tower and One Oxford Centre in Pittsburgh (PA)
· Main Street Square in Rapid City (SD)
· James S. McDonnell Planetarium in St. Louis (MO)
· Union Street Railroad Bridge in Salem (OR)
· Columbia Center and Washington State Convention Center in Seattle (WA)
· Damon Barclay Tower and National Grid in Syracuse (NY)
· Waterbury Palace Theater in Waterbury (CT)
· Yonkers City Hall Clock Tower in Yonkers (NY)
'Make Music Day' has become a global phenomenon ever since its launch by France's Ministry of Culture in 1982 as the Fête de la Musique. This year, the Ministry of Culture joins the Make Music Alliance in honoring the celebration's 40th anniversary, with a symposium on June 16th at the Opéra Comique in Paris featuring important figures from the event's past 40 years, including musician Jean-Michel Jarre, conductor Louis Langrée, and former Minister of Culture Jack Lang, under whose leadership the Fête de la Musique began. On June 21, all day long, the Ministry will present concerts including music students, emerging artists, jazz and classical music, world music and a famous French singer-songwriter at their annual Fête de la Musique concert at the Palais-Royal, with full details posted at fetedelamusique.culture.gouv.fr. Additionally, they will highlight the Alliance's international "Faire La Fête" projects in their promotions, showing how 40 years since its French debut, the day is now celebrated by millions of people in more than 120 countries.
Make Music Day highlights in the U.S. will include Flowerpot Music where music will come from an unlikely but beautiful percussion instrument: the flowerpot; Sousapaloozas that bring together large groups of brass, wind and percussion musicians to play the music of John Philip Sousa; and Mass Appeal where people of all ages and skill levels will join together to make music in large single-instrument groups.
Additional highlights are Street Studios where world-class DJs and producers will set up their gear on sidewalks and engage passersby and musicians to join in an entirely improvised music creation session, sponsored by Harman; a #MySongisYourSong global song swap, featuring over 200 songwriters around the world; and Uncommon Instruments, whereby the public can discover new and unusual instruments thanks to partners such as Makey Makey, which is supplying kits to 14 cities so performers can turn everyday objects into touchpads and use them for music, and Panyard, which is providing 27 cities with Jumbie Jams, an entry level steel pan designed to be easily played by anyone.
Among other featured national programs are a Young Composers contest in partnership with the Grammy-winning vocal group The Swingles, and a Global Livestream featuring musicians in the U.S. broadcasting their performances on a shared livestream, together with their counterparts in several countries; and remote jam sessions hosted by jazz pianist Dan Tepfer called "Round Midnight Around the World" with collaborators in different time zones playing the Thelonious Monk standard together using low-latency FarPlay audio software.
All Make Music Day events are free and open to the public. Participants who wish to perform, or to host musical events, may register at www.makemusicday.org. A full schedule of in-person events has been posted on the website.
Make Music Day is presented in the U.S. by The NAMM Foundation and coordinated by the nonprofit Make Music Alliance. The official hashtag is #MakeMusicDay.
About Make Music Day
Held annually on June 21 to coincide with the summer solstice, Make Music Day is part of the international Fête de la Musique taking place in more than 1,000 cities across 120 countries. The daylong, musical free-for-all celebrates music in all its forms, encouraging people to band together and play in free public concerts. This year, over 100 U.S. cities and the entire states of Connecticut, Hawaii, Vermont and Wisconsin are organizing Make Music celebrations, encompassing thousands of music making opportunities nationwide. Make Music Day is presented by The NAMM Foundation and coordinated by the nonprofit Make Music Alliance. For more information, please visit www.makemusicday.org
Participating U.S. Make Music Day Cities in 2022
Albuquerque (NM), Altoona (PA), Anaheim (CA), Appleton (WI), Ashland (OR), Atlanta (GA), Auburn (CA), Avon Lake (OH), Barron (WI), Beaumont (TX), Beverly Hills (CA), Big Bear (CA), Black Hills - Rapid City (SD), Charlotte (NC), Chattanooga (TN), Chequamegon Bay (WI), Chicago (IL), Cincinnati (OH), Clatsop County (OR), Columbia (MO), Columbia (SC), Danbury (CT), Darke County (OH), Decatur (AL), Denton (TX), Denver (CO), El Paso (TX), Englewood (NJ), Fairfield (CT), Fargo-Moorhead (ND), Federal Way (WA), Garland (TX), Gig Harbor (WA), Green Bay (WI), Hartford (CT), Hastings (MN), Hawaii (statewide), Hebron (CT), Houston (TX), Innsbrook (MO), Issaquah (WA), Kansas City (MO), Kenosha (WI), Knoxville (TN), La Crosse (WI), Lancaster (PA), Land O' Lakes (WI), Lansing (MI), Laredo (TX), Liberty (MO), Long Beach (CA), Los Angeles (CA), Macon (GA), Madison (WI), Marshfield (WI), McMinnville (OR), Miami (FL), Middleton (CT), Middletown (WI), Milwaukee (WI), Montclair (NJ), Montgomery (AL), Nashville (TN), New Haven (CT), New York (NY), Newark (NJ), Northwest CT, Norwalk (CT), Orange (CA), Ossining (NY), Philadelphia (PA), Pittsburgh (PA), Platteville (WI), Polk County (OR), Portland (ME), Provo (UT), Ridgefield (CT), River Valley (WI), Rolla (MO), St. Louis (MO), Salem (OR), San Francisco (CA), San Jose (CA), Santa Fe (NM), Seattle (WA), Sheboygan (WI), Southeastern CT, Stamford (CT), Stratford (CT), Sulphur (OK), Sun Prairie (WI), Superior (WI), Syracuse (NY), Temecula (CA), Topanga (CA), Tucson (AZ), Ventura County (CA), Vermont (statewide), Waterbury (CT), Waunakee (WI), Wheaton (IL), Yonkers (NY), and York County (PA).
---
About NAMM
The National Association of Music Merchants (NAMM) is the not-for-profit association with a mission to strengthen the $17 billion music products industry. NAMM is comprised of 15,000 global member companies and individual professionals. NAMM events and members fund The NAMM Foundation's efforts to promote the pleasures and benefits of music and advance active participation in music-making across the lifespan. For more information about NAMM, please visit www.namm.org. The 2024 NAMM Show will be held at the Anaheim Convention Center January 25-28.