Mrs. G's Music Foundation Gifts $300,000 to The NAMM Foundation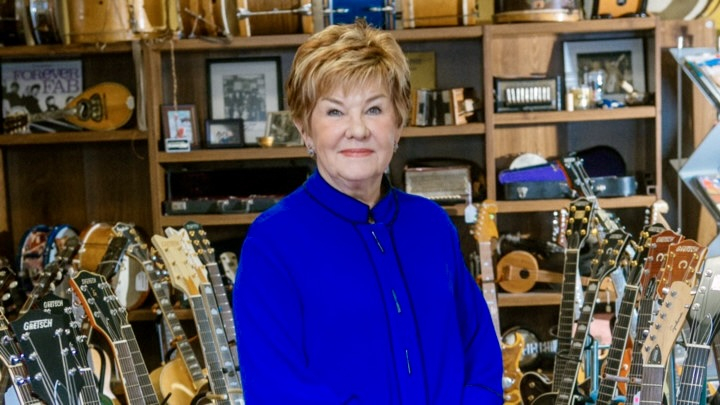 NAMM Foundation Vice Chair, CFO of the Gretsch Company, and founder of Mrs. G's Music Foundation Dinah Gretsch has announced a donation to The NAMM Foundation of $300,000. The gift, a multi-year pledge of $100,000 for three years, will support the growth of The NAMM Foundation's GenNext program. For more than 10 years, the GenNext program has served college-aged emerging professionals and faculty with a pathway to discover a fulfilling career in the music and creative industries.
"Mrs. G's Music Foundation was started with a core belief that music has the power to positively change and enrich lives through music," Dinah said. "With this donation, more young people will be able to discover their place in the industry."
"We are so deeply grateful for this gift," said Mary Luehrsen, executive director of The NAMM Foundation. "In every way, Dinah is a tireless advocate for music. Through her generosity, our shared vision — to expand access for young people to find their place in music and nurture their talents to help create a more musical world — is realized. We couldn't be more thankful for this gift and its lasting impact for generations to come."
GenNext is a collaboration between The NAMM Foundation and The College Music Society (CMS) that offers college music students college-to-career sessions, panel discussions, and networking events during The NAMM Show to expose students to the vast array of career possibilities in the music industry. The program also offers college faculty professional development and networking sessions to stay informed on the latest trends in teaching and playing music, pro audio and engineering, and music technology. The curated education tracks are designed to expand their knowledge to support the development of music business programs in colleges and universities across the United States.
Through the gift, The NAMM Foundation will work to expand outreach and awareness about the GenNext program and seek to expand applications for the GenNext President Innovation Award, which offers a travel stipend to attend The NAMM Show. The gift also supports new opportunities to engage international students in The NAMM Show.
Luehrsen continued, "The opportunity to further develop the GenNext program is, in a word, thrilling. Our GenNext students can hardly find the words to describe how their eyes have been opened to all the connections and possibilities for a life in music that the program offers them. With Dinah's vision and the gift from Mrs. G's Music Foundation, I feel we could take the program to the next level and serve more students who will be a part of changing the world through music. We are so grateful for this inspired donation."
In addition to Mrs. G's Music Foundation, Dinah Gretsch serves as executive vice president and CFO of the Savannah, Ga.-based Gretsch Company, a globally recognized manufacturer of high-quality drums and guitars since 1883. Dinah has been recognized as a prominent figure in the musical instruments industry for 40 years with numerous prestigious awards and accolades. In 2003, the Atlanta Chapter of the National Academy of Recording Arts and Sciences (NARAS) presented her with the Heroes Award, a distinction awarded to community leaders in the music industry. In 2008, she was inducted into the Georgia Music Hall of Fame for her significant contributions to the music industry. In 2014, the College of Liberal Arts and Social Sciences at Georgia Southern University honored her with the prestigious Betty Foy Sanders Patrons of the Arts Award. That same year she was honored by the Women's International Music Network (WiMN) with the She Rocks Award for her leadership in the music industry. Dinah was also acknowledged in the Top 500 list of Georgia's Most Influential Leaders in 2022.
With a core belief that music has the power to change children's lives positively, Dinah established Mrs. G's Music Foundation in 2010 to fund music teachers, support artist residencies, and supply musical instruments to rural schools. She also provides grants to children to attend guitar and drum camps, all in furtherance of the Gretsch family mission to "enrich lives through participation in music."
In addition to serving as the vice chair of The NAMM Foundation, Dinah devotes much of her spare time serving on the boards of the Georgia Music Foundation, Sacred Heart Finance Committee, Thomas Heyward Academy, and on the Donors Committee for the Fred and Dinah Gretsch School of Music at Georgia Southern University.
Since 1994, and through the generosity of NAMM members' support of its Circle of Benefits model, The NAMM Foundation has reinvested $204 million to fulfill its vision to support music education and advance active participation in music-making across the lifespan. In addition, the organization works to support scientific research, philanthropic giving, and public service programs.
NAMM Foundation programs include NAMM's Museum of Making Music and the SupportMusic Coalition. This coalition unites nonprofit organizations, schools, and businesses working to ensure that music education is supported in communities everywhere, funding leading qualitative and quantitative research on music and music-making from top neuroscientists and researchers; the Best Communities for Music Education recognition program, which acknowledges and applauds schools and districts across the U.S. for their support for and to quality music education programs; GenNext, a program designed to foster emerging, college-aged music industry professions; Music Education Days at The NAMM Show that unites music educators with the music products industry; and grant-making to nonprofit music-making service organizations in the U.S. and abroad.
About Mrs. G's Music Foundation 
Mrs. G's Music Foundation was established in 2010 by The Gretsch Company's executive vice president and CFO, Dinah Gretsch, with the goal to promote music education in schools located within the greater Savannah area, where The Gretsch Company is based. Celebrating 138 years as a family business, the Gretsch name is a testament to the spirit, passion, and determination of the people who lived and those who continue to carry on its legacy. From humble beginnings at a small Brooklyn, N.Y., shop in 1883, The Gretsch Company was built on a foundation of hard work and a dedication to making a quality professional product without sacrificing ideals. This vision still rings clear today.
About The NAMM Foundation
The NAMM Foundation is a nonprofit organization supported in part by the National Association of Music Merchants and its approximately 15,000 global member companies and individual professionals. Our mission is to advance active participation in music-making across the lifespan by supporting scientific research, philanthropic giving, and public service programs. 
---
About NAMM
The National Association of Music Merchants (NAMM) is the not-for-profit association with a mission to strengthen the $17 billion music products industry. NAMM is comprised of 15,000 global member companies and individual professionals. NAMM events and members fund The NAMM Foundation's efforts to promote the pleasures and benefits of music and advance active participation in music-making across the lifespan. For more information about NAMM, please visit www.namm.org.