Museum of Making Music Benefit Concert Featuring Graham Nash Raises More Than $195,000 for Educational Programs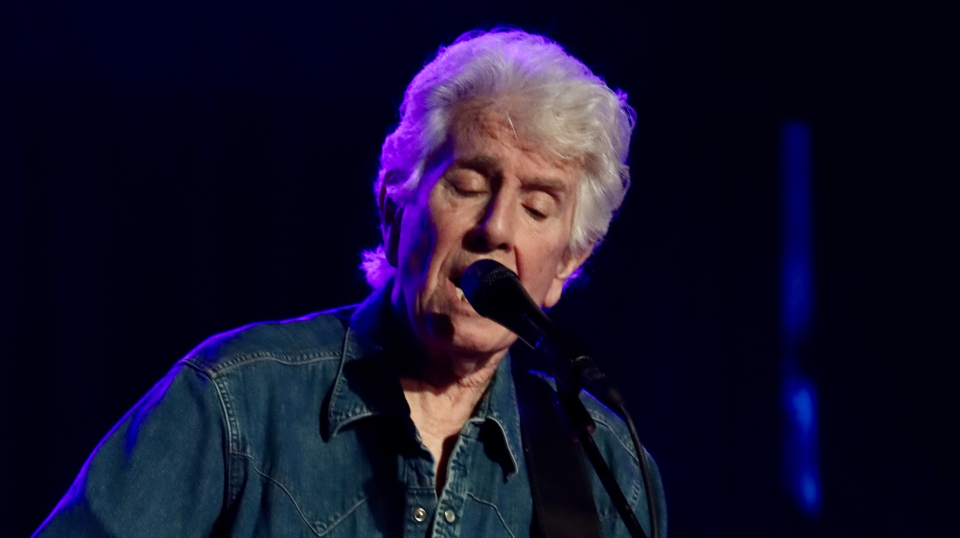 On Tuesday, July 18, NAMM's Museum of Making Music welcomed patrons to a sold-out "Concert for a Cause" benefit event that featured legendary Grammy Award®-winning renaissance artist Graham Nash. The event was held at the Belly Up Tavern in Solana Beach, California, and raised more than $195,000 in support of the museum's educational outreach programs, which impact thousands of school children and adults each year.
Guests enjoyed a 90-minute performance of beloved songs as part of Nash's Sixty Years of Songs and Stories tour. Nash, accompanied by Shane Fontayne on guitar and vocals and Todd Caldwell on keyboards and vocals, performed such memorable tunes as "Our House," "Cathedral," "Love the One You're With" and "Teach Your Children." Nash also shared renditions of songs that inspired his career, including "A Day in the Life" by The Beatles and "Everyday" by Buddy Holly.
"The support for music was palpable throughout the event and will live on in our memories for a long time. The power of music to shape lives — and our world — was embodied by Graham Nash's generous sharing of his music and lifetime of experience," said Carolyn Grant, executive director of the NAMM Museum of Making Music. "And the record-breaking amount of funds raised will be pivotal in helping the NAMM Museum of Making Music continue its work to open doors to lifelong music making for people of all ages. We are deeply grateful to all who supported the event."
Proceeds raised from the event will help support the museum's education programs and provide access to music and music making to the community. Initiatives include the Title I Field Trip program, which annually provides thousands of schoolchildren from economically challenged areas free entry to the museum, and the North Coast Strings and New Horizons Band, which offers music-making opportunities for older adult learners. Past benefit events have featured such artists as Mavis Staples, Emmylou Harris, Jason Mraz, Herb Alpert and Lani Hall.
"This event could not have been more inspiring, and few people embody the spirit of music making and the NAMM Museum of Making Music like Graham Nash," said John Mlynczak, president and CEO of NAMM. "We're so grateful to all who made the 'Concert for a Cause' possible, including the generous support of our contributors and NAMM members. Because of them, thousands of people will discover music-making."
The event was made possible by generous contributions from the Kenneth T. and Eileen L. Norris Foundation, Aaron Chang Ocean Art Galleries, Accretive of San Diego, Exclusive Networks, Gary and Jerri-Ann Jacobs, Rosemary Kubes, The Lamond Family Fund, Morrison Hotel Gallery, Taylor Guitars, Tom and Paula Wilson, and Zuza. Additionally, hundreds of donors bid pledges of support that night toward both a robust auction and a Raise the Paddle portion of the evening.
To learn more about the Museum of Making Music's programs, please visit https://www.museumofmakingmusic.org.
Photo Credit: Tim Whitehouse for the Museum of Making Music
About the Museum of Making Music
A signature program of The NAMM Foundation, the Museum of Making Music takes visitors on an immersive journey of musical exploration and discovery as told through instruments, artifacts, and multimedia displays featuring video stories, photographs, performance clips and interviews from instrument creators, artists and industry innovators. Inside its four galleries, guests experience key themes of "Making the Instruments," "Providing the Instruments," "Using the Instruments" and "Beyond the Instruments," and develop a greater knowledge of how instrument creators and external events have brought us the music we make and enjoy. Through educational programs, live performances and engaging events, the Museum provides the community with access to music-making opportunities across the lifespan and encourages visitors to discover their own place within music.
---
About NAMM
The National Association of Music Merchants (NAMM) is the not-for-profit association with a mission to strengthen the $17 billion music products industry. NAMM is comprised of 15,000 global member companies and individual professionals. NAMM events and members fund The NAMM Foundation's efforts to promote the pleasures and benefits of music and advance active participation in music-making across the lifespan. For more information about NAMM, please visit www.namm.org. The 2024 NAMM Show will be held at the Anaheim Convention Center January 25-28.