NAMM Celebrates the 2021 Top 100 Dealers, Announces Dealer of the Year and Best of Category Winners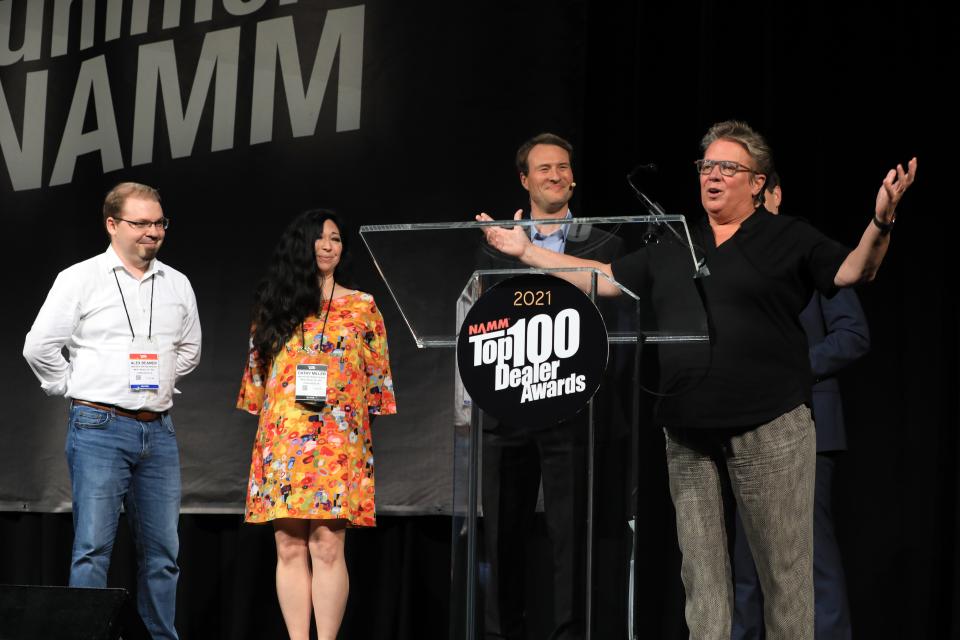 Nashville
Earlier this evening at Summer NAMM in a special celebration of the spirit of the independent retailer, the industry gathered at the Top 100 Dealer Awards. Now in its eleventh year, the awards honor retailers worldwide who demonstrate exceptional commitment to their stores, neighborhoods, and customers and share in a vision of creating a more musical world through their local communities.
Congratulations to the following "Best of" award winners, "Dealer of the Year," and all Top 100 honorees:
Dealer of the Year: West Music Co.
Best Community Retail Store: Mike Risko Music
Best Customer Service: Righteous Guitars
Best Marketing and Sales Promotion: Dietze Music
Best Online Engagement: Amro Music
Best Store Design: Cosmo Music
Innovation Award: Bertrand's Music Enterprises
Music Makes A Difference Award: West Music Co.
"In the past year, we saw the world come to a near stand-still, yet the heart of the independent music retailer stood at the ready to serve its community and help to inspire, console, and provide joy at a time when so many aspects of life were changing," affirmed Joe Lamond, NAMM President and CEO. "We applaud all music retailers for the vital role that they serve in their communities and beyond."
One story of music providing a vital role comes from West Music Co., winner of the "Dealer of the Year" and the "Music Makes a Difference" awards. When the coronavirus pandemic arrived in 2020, music therapy came to a sudden halt. With one student, Payton, her medically fragile status meant that there was a new level of worry for her safety, yet Payton's parents were eager to have remote music therapy sessions and see if that could work. Her mother says, "We are so grateful that remote music therapy sessions were an option – and West Music got them up and running for us quickly! I can't imagine how much regression we would have seen in Payton's skills without being able to have music therapy during this time."
All submissions for the Top 100 Awards were evaluated for effectiveness in marketing, customer engagement, and innovation in retail by a panel of independent judges. View the complete list of Top 100 Award honorees here: https://ww1.namm.org/summer/2021/top-dealer-awards/winners
The 2021 Summer NAMM show is currently underway at Nashville's Music City Center (July 15-16) and brings together thousands of buyers, exhibitors, and music industry professionals to preview the latest music products, gain valuable insights through a robust professional development program, and network with peers. Learn more by visiting Summer NAMM at namm.org
#SummerNAMM
---
About NAMM
The National Association of Music Merchants (NAMM) is the not-for-profit association with a mission to strengthen the $17 billion music products industry. NAMM is comprised of 15,000 global member companies and individual professionals. NAMM events and members fund The NAMM Foundation's efforts to promote the pleasures and benefits of music and advance active participation in music-making across the lifespan. For more information about NAMM, please visit www.namm.org. The 2024 NAMM Show will be held at the Anaheim Convention Center January 25-28.