NAMM Celebrates Outstanding Technical Achievement at The TEC Experience
Evening event honored Chuck D and GrandMixer DXT; Special performances from Lord Finesse, Resonant Alien, Mike Relm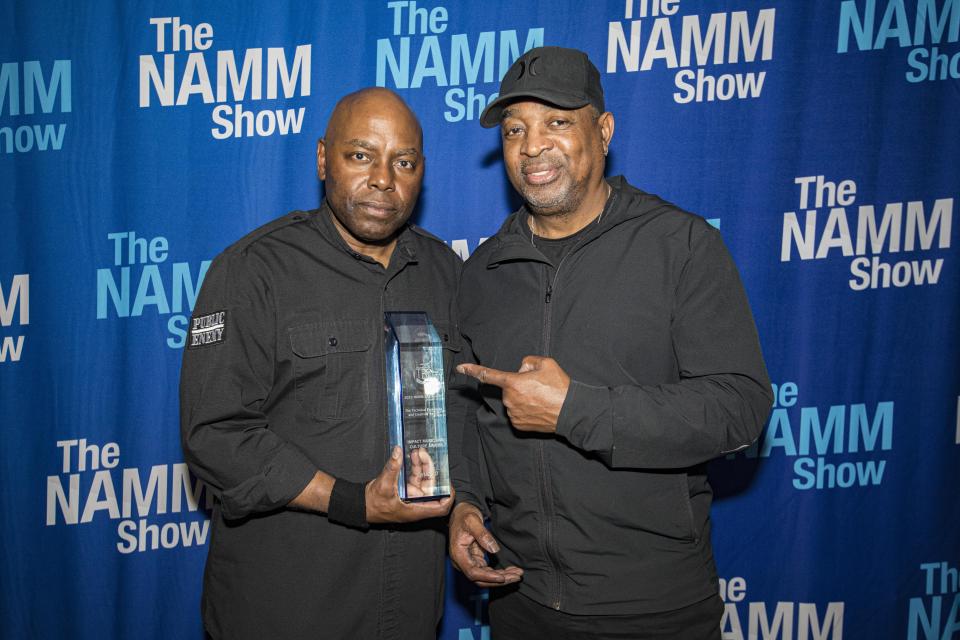 Last night at The 2023 NAMM Show, a standing-room-only crowd at The TEC Experience celebrated twenty-one innovative technical achievement products and technologies, and one studio design project as a part of the NAMM Technical Excellence & Creativity (TEC) Awards. The NAMM TEC Awards are bestowed annually in celebration of the pro audio community and recognizes the individuals, companies, and technical innovations behind today's sound recordings, live performances, films, television, video games, and other media. View the recipients below.  
Hip Hop 50 was a highlight of the evening's celebrations, which honored the career and legacy of Chuck D, the leader of Public Enemy, a social activist, Rock & Roll Hall of Fame inductee, and GRAMMY® Lifetime Achievement Award winner. Musician, producer, songwriter and bandmate Brian Hardgroove presented Chuck with NAMM's Impact Music & Culture Award, an award he conceived in homage of Chuck's ability to move culture through the power of music.
Upon receipt, Chuck D said, "It's an honor to honor those who make this music, and that's what I'm using this platform for. Seeing peers and technologists like DJ Jazzy Jeff, Lord Finesse, Arabian Prince and being able to see Keith Shocklee, DJ Johnny Juice. This platform that NAMM provides us helps tell the story, and we need to continue to tell that story. It is important and something I am fortunate to be a part of." 
DJ Jazzy Jeff presented Rock Walk of Fame inductee, GrandMixer DXT with the Hip-Hop Innovator Award for his contribution of innovating the turntable as a musical instrument, the impact of which can be heard in every music genre.
Lord Finesse, an artist, producer extraordinaire, and member of the iconic hip-hop crew Diggin' In The Crates (D.I.T.C.) gave a special  performance to open The TEC Experience. Resonant Alien, featuring Hardgroove and DJ Johnny Juice of Public Enemy capped off the celebration with a performance.  A specially-produced hip-hop video and music montage conceived by smash-up video man Mike Relm was also played at the event. Entertainment industry veteran and producer Larry Batiste hosted.
The 2023 TEC Awards recipients were selected by a panel of respected industry voters from pro audio publications and members of professional music, technical and creative organizations.
The TEC Awards will return with The NAMM Show in January 2024. Learn more about the TEC Experience at www.tecawards.org.
Congratulations to The 2023 TEC Award Recipients
Amplification Hardware / Studio & Sound Reinforcement 
L-Acoustics, LA7.16i Amplified Controller
Audio Apps & Hardware / Peripherals for Smartphones & Tablets      
Universal Audio, Volt 2 USB Audio Interface
Audio Education Technology
Mix with the Masters   
Computer Audio Hardware  
Universal Audio, Volt 276 USB Audio Interface
Console Technology   
Solid State Logic, ORIGIN
DJ Production Technology (Hardware / Software)   
Roland, SP-404MKII Creative Sampler and Effector
Headphone / Earpiece Technology        
Neumann, NDH 30 Open-Back Studio Headphone
Microphone Preamplifiers    
Rupert Neve Designs, 5025 Dual Shelford Mic Pre
Microphones - Recording     
Mojave Audio, MA-37
Microphones - Sound Reinforcement     
DPA Microphones, 4055 Kick Drum Microphone
Musical Instrument Amplification & Effects     
Universal Audio, UAFX Dream '65 Reverb Amplifier
Musical Instrument Hardware       
NORD, Piano 5 88
Musical Instrument Software
Universal Audio, Opal Morphing Synthesizer
Production Essentials 
Genelec, GLM V4.2 GRADE Report
Signal Processing Hardware
Solid State Logic, THE BUS+
Signal Processing Software (Dynamics / EQ / Utilities)     
Eventide, SplitEQ
Signal Processing Software (Effects)     
FabFilter, Volcano 3
Sound Reinforcement Loudspeakers     
Meyer Sound, PANTHER Large-Format Line Array
Studio Monitors  
Genelec, 6040R Smart Active Loudspeaker
Wireless Technology  
Sennheiser, XS Wireless IEM
Workstation Technology / Recording Devices
Universal Audio, LUNA v1.2.5
Studio Design Project 
Spotify at Mateo, Walters-Storyk Design Group
ABOUT THE TEC AWARDS
Presented annually during The NAMM Show at The TEC Experience, The NAMM TEC Awards recognize the individuals, companies, and technical innovations behind the sound of recordings, live performances, films, television, video games, and other media in Technical and Creative Achievement Categories. Through its Hall of Fame, The TEC Awards also honors the pioneers of audio technology and the music industry's most accomplished producers and audio technicians. The NAMM Foundation's TECnology Hall of Fame celebrates innovations and groundbreaking technical achievements of the past. For more information, visit www.tecawards.org.
---
About NAMM
The National Association of Music Merchants (NAMM) is the not-for-profit association with a mission to strengthen the $17 billion music products industry. NAMM is comprised of 15,000 global member companies and individual professionals. NAMM events and members fund The NAMM Foundation's efforts to promote the pleasures and benefits of music and advance active participation in music-making across the lifespan. For more information about NAMM, please visit www.namm.org. The 2024 NAMM Show will be held at the Anaheim Convention Center January 25-28.