NAMM Delegation Advocates for Equity and Access to Music and Arts Education
— NAMM Fly-In comprised of 85 leaders from 41 states fighting for 50.4 million students —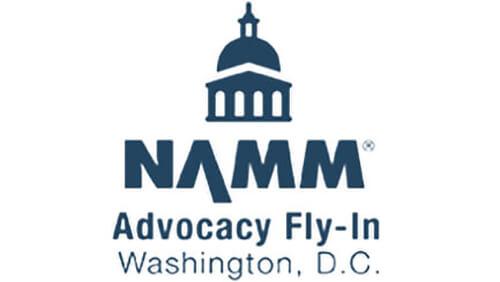 CARLSBAD, CALIF., November 6, 2023 – NAMM (The National Association of Music Merchants),
the largest global not-for-profit music trade organization, and 85 music business leaders and
professionals from 41 states will arrive on Capitol Hill November 13 for NAMM's Music
Education Advocacy D.C. Fly-In. Following large-scale online advocacy events and efforts
through the pandemic, this is the first time since 2019 that a group of music industry leaders
will travel to Washington, D.C., and advocate to ensure children of every age and ability in
America has access to school music and arts programs.
 
Marking its 18th year working for an increase in funding for music education in schools, the
NAMM delegation is advocating for 50.4 million students nationwide, who have the right to a
well-rounded education that includes music as outlined in the Every Student Succeeds Act
(ESSA) federal education law. In November, the coalition of music education champions will ask
Congress to fund Title IV Part A to its fully authorized amount of $1.65 billion. NAMM will also
ask that proposed catastrophic cuts to Title I and Title II are rescinded, as Title I funding is the
largest source of federal education funds used by nearly every school district in the country and
supports our nation's most vulnerable students.
 
"As the global music trade association, the D.C. Advocacy Fly-In is one of the most impactful
events we do with and on behalf of our members," said NAMM President and CEO John
Mlynczak. "Our collective efforts, diligent work and testimonies of the nation's top music
industry leaders translate into the perfect mix of passion and inspiration needed to influence
our elected officials to approve the funding necessary for every child to have the right to learn,
play and enjoy music making throughout their lives."
 
On Tuesday, November 14 the first elected of his generation (Gen Z) Representative Maxwell Frost (Fl-10) will deliver the keynote address, while Senator Tammy Baldwin (D-WI) will receive the SupportMusic Champion Award later that evening in honor of her unwavering commitment to music and the arts.  The following day, Representative Suzanne Bonamici (D-OR 1) will make remarks at a Capitol Hill reception.
 
Music industry pros will also meet with college students at the University of the District of Columbia to share highlights from The NAMM Foundation's recently launched Careers in Music initiative. Modeled after the successful "Network With the Pros" events at The NAMM Show, industry pros will provide mentorship to students considering a career in the music industry. Presented by The NAMM Foundation and featuring the John Lennon Educational Tour Bus, this event was made possible through a generous donation by Dinah Gretsch and Mrs. G's Music Foundation as part of a national tour of HBCUs.
Demonstrating the power of music to unite regardless of age, ethnicity or political beliefs,
meetings have been requested with some of Capitol Hill's most consequential elected leaders
that represent NAMM members throughout the nation, including Representatives Tommy
Tuberville (R-AL), John Boozman (R-AR), Brad Sherman (D-CA), Kevin McCarthy (R-CA), Richard
Blumenthal (D-CT), Matt Gaetz (R-FL), Marco Rubio (R-FL), Steve Scalise (R-LA), Ilhan Omar (D-
MN), Chuck Schumer (D-NY), Hakeem Jeffries (D-NY), Suzanne Bonamici (D-OR) and Tammy
Baldwin (D-WI), as well as with other elected officials from 41 states.
 
Leaders from influential companies, including Alfred Music, Buffet Crampon, C. F. Martin & Co.,
Inc., Conn Selmer, Eastman Music Company, Fred W. Gretsch Enterprises, KHS America, Korg
USA, West Music, Yamaha Corporation of America and many more, will join in one united voice
in support of access and equity to a well-rounded education that includes music.
 
"Music education allows students an opportunity to experience different cultures by learning
songs from other countries," said Cindy McAllister, director of intellectual property and
community/government relations at C. F. Martin & Co., Inc. "Developing an understanding of
other cultures leads to a beautiful acceptance of others."
 
Official Hashtag: #NAMMFlyIn
 
Learn more about The NAMM Foundation's careers in music initiative by visiting
nammfoundation.org.
---
About NAMM
The National Association of Music Merchants (NAMM) is the not-for-profit association with a mission to strengthen the $17 billion music products industry. NAMM is comprised of 15,000 global member companies and individual professionals. NAMM events and members fund The NAMM Foundation's efforts to promote the pleasures and benefits of music and advance active participation in music-making across the lifespan. For more information about NAMM, please visit www.namm.org. The 2024 NAMM Show will be held at the Anaheim Convention Center January 25-28.