The NAMM Foundation Gala Featuring Jason Mraz Raises Over $150,00 to Advance Music-Making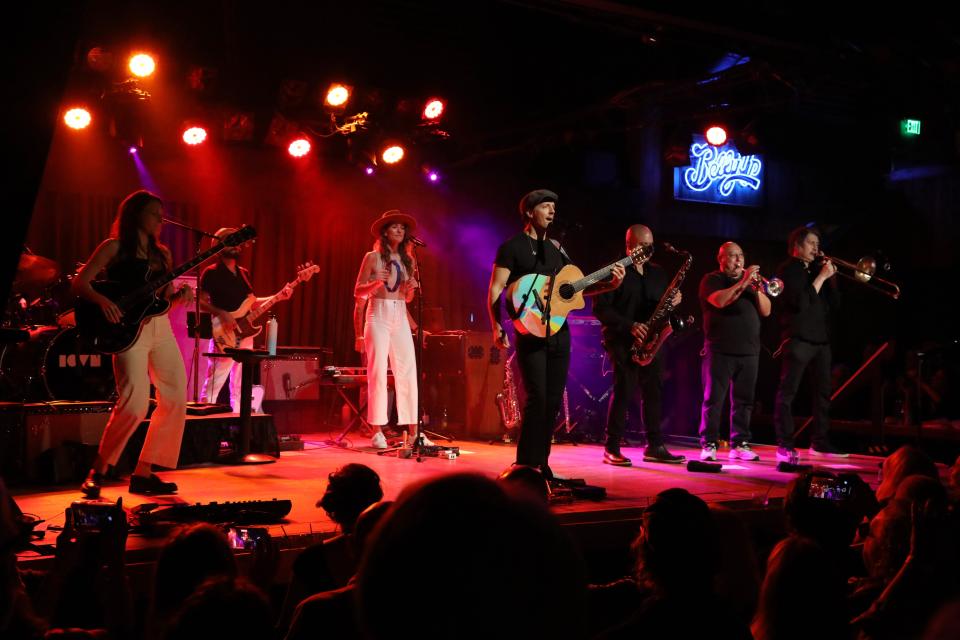 On Sunday, October 16, generous arts, civic, and music patrons gathered to enjoy an evening of musical performance by GRAMMY® award-winning singer-songwriter Jason Mraz. The benefit concert for The NAMM Foundation welcomed patrons at the Belly Up Tavern in Solana Beach, California, and raised over $150,000, w[CG1] hich will help the not-for-profit advance its mission in benefitting music-making opportunities and serving the community at large through its signature program, the Museum of Making Music (MoMM). The NAMM Foundation advances active participation in music-making across the lifespan through scientific research, philanthropic giving, and public service programs such as the NAMM Museum of Making Music.
Patrons of the evening enjoyed a ninety-minute performance of inspiring musicianship spanning Mraz's discography of hits. The set started with a chart mover from his early career with "Make it Mine," followed by 2020's "Look for the Good," the title track from an album in which Mraz donated all royalties to a variety of charities. Mraz closed the set with "Have it All," a song to inspire life's limitless possibilities of hope, togetherness, affection, friendship, and more.
"The message of the night was one of hope, that together, we can impact the lives of thousands and bring a brighter future for many through music," said Mary Luehrsen, Executive Director of The NAMM Foundation.
Carolyn Grant, Executive Director of the MoMM, echoed that sentiment. "We are so grateful for the generosity of our patrons, the incredible artist performance, and those who share in this vision of building a more musical world."
Donations raised at the gala will help support the NAMM Foundation's efforts to advance music-making as well as the Museum Making Music's year-round music-making opportunities. The MoMM presents exhibitions that celebrate music-making in its many aspects and encourages visitors to find their own place in the world of music. The MoMM hosts thousands of school-aged children each year, many from Title I schools, for tours that provide educational enrichment. Its North Coast Strings and New Horizons Band programs, musical ensembles designed to be an entry point for adults, are also hosted and organized by the museum along with Community Music Making Days, Special Exhibitions, and live performances that celebrate connectivity through music. Other MoMM galas have presented notable names, including Emmylou Harris, Graham Nash, and Mavis Staples.
Late last year, the MoMM celebrated its reopening after an extensive renovation, the first major redesign after the MoMM's founding in 2000. The new MoMM takes visitors on an immersive journey of musical exploration and discovery as told through instruments, artifacts, and multimedia displays featuring video stories, photographs, performance clips, and interviews from instrument creators, artists, and industry innovators. Across the MoMM's four galleries, guests can experience key themes of "Making the Instruments," "Providing the Instruments," "Using the Instruments," and "Beyond the Instruments," and develop a greater knowledge of how instrument creators and external events have brought us the music we make and enjoy. Learn more here: https://museumofmakingmusic.org/reopening
The gala event was made possible by generous contributions from the Kenneth T. and Eileen L. Norris Fund; Aaron Chang Ocean Art Galleries; Alesmith Brewing Company; Burger Construction; Deering Banjos; Henry Diltz; Exclusive Networks; Hilton San Diego Bayfront; Gary and Jerri-Ann Jacobs; Rosemarie Kubes; The Lamond Family Fund; Evelyn Lipson; Philip and Melane Lurie; Morrison Hotel Gallery; San Diego Firefighters Association; Sanford Radom, M.D.; Taylor Guitars; ZUZA Print; and others.
---
About NAMM
The National Association of Music Merchants (NAMM) is the not-for-profit association with a mission to strengthen the $17 billion music products industry. NAMM is comprised of 15,000 global member companies and individual professionals. NAMM events and members fund The NAMM Foundation's efforts to promote the pleasures and benefits of music and advance active participation in music-making across the lifespan. For more information about NAMM, please visit www.namm.org. The 2024 NAMM Show will be held at the Anaheim Convention Center January 25-28.