NAMM Members Drum Up Support for Music Education in the Capital
The Music Industry and Celebrity Musicians Play Up Benefits of Providing Music Education to All Children during Congressional Meetings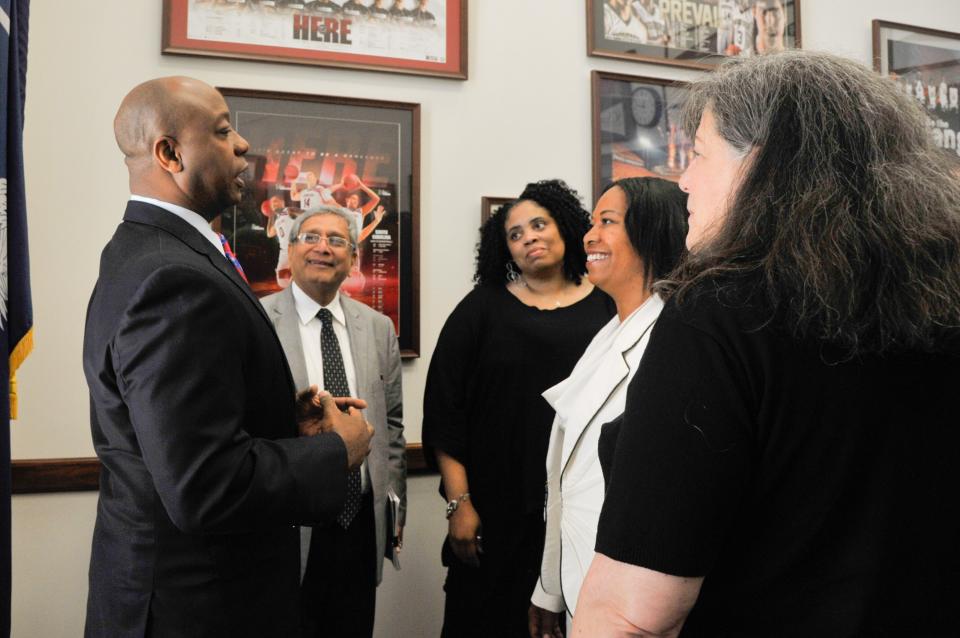 Washington, D.C.
Music industry leaders and musicians banded together during this week's NAMM D.C. Fly-In encouraging congressional support for quality, comprehensive music education for all children. This effort came as Congress looks to reauthorize the Elementary and Secondary Education Act (ESEA). The 2015 fly-in, NAMM's largest ever, included a day of service at D.C.'s Bancroft Elementary, advocacy training at the Kennedy Center and more than 130 meetings with members of Congress.
"Right now, Congress is working to update the national education bill. This bill would impact 50 million children, shaping U.S. education policy for years, if not decades to come. A record number of NAMM members took time away from business and family to represent our industry and ensure that music and the arts remain core subjects getting the funding they deserve," said Joe Lamond, president and CEO of NAMM. "We are grateful for their efforts and believe that their passionate voice in support of music education will help achieve our vision of a world where every child has a right to music education."
Seventy-six NAMM members, former New York Yankee and Latin GRAMMY-nominated musician Bernie Williams, actor Doc Shaw and more fortified the eleventh annual fly-in to reinforce the importance of music education for all children. In face-to-face meetings with members of Congress, NAMM members and artists urged their representatives to designate core academic subjects including music and the arts in ESEA. The Senate HELP Committee's version of ESEA includes 'music' as a core subject. That version now goes to the full Senate.
"When we saw that the education bill was moving through the Senate and that the language included music, we knew that we couldn't miss this year's fly-in," said Scott Abrahamson from Rick's Musical Instruments, Inc. "This issue and advocating for it is more important than ever!"
A new NAMM Foundation-funded, nationwide study of 1,000 teachers and 800 parents finds strong support for music education at all grade levels. "Striking a Chord: The Public's Hopes and Beliefs for K-12 Music Education in the United States 2015" was unveiled at the National Press Club during the fly-in. The study finds that strong majorities of teachers and parents say music education is "very" or "extremely" important and should continue to be funded, even at the expense of other programs and classes.
NAMM members presented a SupportMusic Award to Congressman John Lewis (GA), who shared a powerful message about music's role during times of change, "Without music the civil rights movement would have been like a bird without wings." The fly-in culminated with a celebration of music education overlooking the Capitol where NAMM members surprised Bernie Williams with a SupportMusic Award. "Obviously, there's an artistic and creative side to music, but to me, the important thing is that it's a vehicle to enhance the learning ability of a child," said Williams, joining the NAMM fly-in for the fifth time this year. "Music helps with the development of the brain and how well students do in all of their other subjects."
The fly-in kicked off with a day of service at Bancroft Elementary. Fifth graders jammed on guitars, drums and ukuleles with NAMM members, Williams, opera singer Carla Dirlikov, award-winning folk duo Cathy Fink and Marcy Marxer, GRAMMY-nominated music educator Glen McCarthy, and John Fitzgerald from Remo Inc. The music will play on at Bancroft following NAMM's visit thanks to generous donations from Rhythm Band Instruments, Middle C Music, Remo Inc., Deering Banjos, Musical Innovations, Groth Music Company, Spicer's Music LLC, The Cavanaugh Company, Needham Music, GAMA, Music for Life, Kala Brand Music Co. and the NAMM Foundation.
These D.C. Fly-In efforts reinforce NAMM's vision of a world in which every child has a recognized right to be taught music, with NAMM members as passionate champions of that right. Hear highlights from this week's efforts and the latest on ESEA authorization during the May 21 SupportMusic Coalition call. View and download images from NAMM's Music Advocacy D.C. Fly-in at http://www.image.net/NAMMmusiced2015.
---
About NAMM
The National Association of Music Merchants (NAMM) is the not-for-profit association with a mission to strengthen the $17 billion music products industry. NAMM is comprised of 15,000 global member companies and individual professionals. NAMM events and members fund The NAMM Foundation's efforts to promote the pleasures and benefits of music and advance active participation in music-making across the lifespan. For more information about NAMM, please visit www.namm.org. The 2024 NAMM Show will be held at the Anaheim Convention Center January 25-28.