NAMM Members Take Part in National Day of Advocacy in Support for Music Education for All Children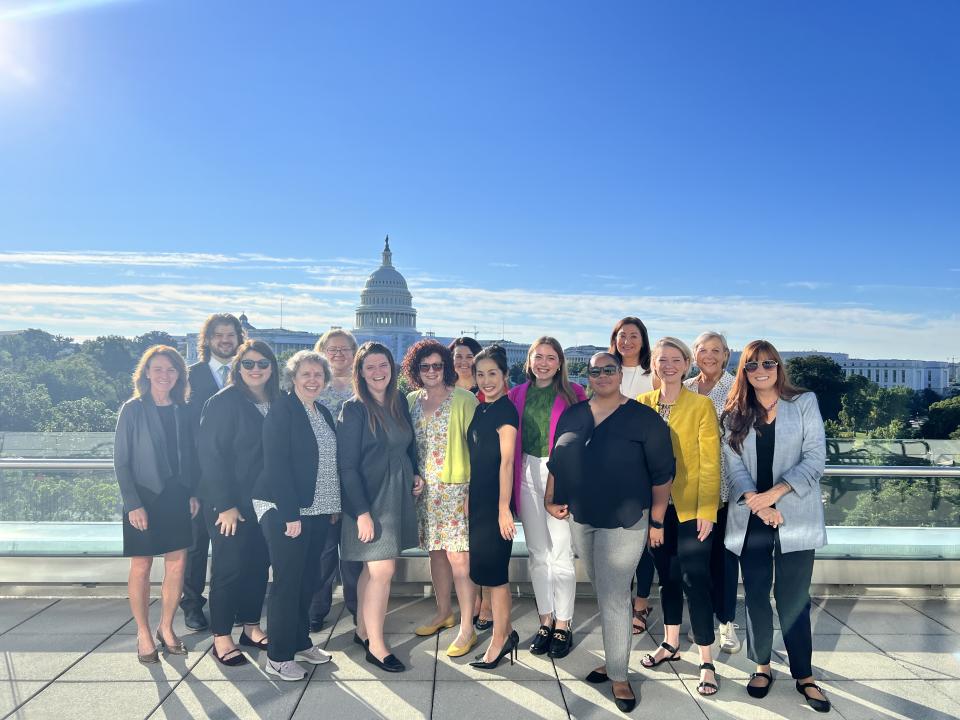 Carlsbad, CA
On Wednesday, September 14, a delegation of NAMM Members, music and arts advocates, music industry leaders, teachers, business leaders, parents, and community supporters met with Members of Congress to encourage support for quality, comprehensive school music education programs for all children. The NAMM Music Education Advocacy Hill Day, presented by the National Association of Music Merchants, welcomed 60 advocates in support of music education policy and equitable access for all students to music education in the classroom.
"From the Halls of Congress to virtual meetings and those at the district level, NAMM Member delegates engaged with our nation's policymakers in meaningful dialogue about safeguarding the future of music education for children," said Mary Luehrsen, Director of Public Affairs and Government Relations. "We applaud our members and partners for giving so generously of their time and for their efforts in creating a more equitable future for all children to have access to music education."
The advocates called on Members of Congress in Washington, D.C., in-district and through virtual meetings, to continue to advocate for our nation's children by demonstrating strong support for the intent of the Every Student Succeeds Act (ESSA) and its Student Support and Academic Enrichment Grants (SSAEG) to state and local school districts to expand access to well-rounded subjects, specifically including music and the arts. NAMM asks Congress to fully fund ESSA's Title IV, Part A (SSAE Grants) to its authorized level of $1.65 billion; support ESSA's Title I funding for our nation's most vulnerable children;support ESSA's Title II funding for professional development that promotes the effectiveness of our teachers; and to support dedicated ongoing funding for our national arts and culture organizations such as the National Endowment for the Arts (NEA), which provides competitive grants in every state and congressional district for our national arts and culture organizations.
For NAMM Members who made the trip to D.C., the ability to meet with Members of Congress had a profound impact. "As a lifelong musician and educator, I must meet with my elected representatives. Specifically, to share my passion for and concerns about the well-being of our nation's children — especially as their education has been so disrupted during the pandemic - particularly in collaborative subjects such as music and arts," says Dr. Donny Gruendler, Vice President of Education for Guitar Center.
Gruendler continues: "As we know, music contributes to the academic, social, and emotional well-being of all children, and I believe that every child must have access to a well-rounded education — one that includes music. As a former student who stayed in school due to state music programs, I continually speak with members of Congress in hopes they may provide strong support for the intent of ESSA and its Student Support and Academic Enrichment (SSAE) Grants."
Lindsay Love, Community and Artist Relations Manager at Taylor Guitars, echoes that sentiment. "If we want music education programs to expand and if we want to reduce the equality gap in music education, we must be present and consistent in our advocacy, especially as leaders in the music products industry. Meeting with Members of Congress allows us to share the direct impact music education, specifically offered during the school day, has had on our and others' lives. We can share data and results from different studies, but when we tell personal stories that back up that data, it humanizes the issue."
"It is so important to be there to support our industry at large," shares Joshua Curlett, CEO of SoundPro. "I believe in a healthy ecosystem full of amazing people who create. By keeping this issue at the forefront, we can help advocate for the ecosystem of creators - from elementary and high school students to our local music stores. After meeting with my Representatives, I felt I made a difference through our conversations and would encourage all NAMM Members to participate in strengthening our industry."
Prior to the day, the organization provided a series of briefings from national arts leaders, actionable tools, and peer-to-peer lessons to serve as champions for music education. The advocacy training included self-paced virtual presentations from music education leaders, including composer and conductor Eric Whitacre who presented the opening keynote, "Why We Advocate for Music Education;" a welcome and introduction from NAMM President and CEO Joe Lamond and NAMM Chair Joel Menchey; and the latest in music education policy and advocacy from NAMM Senior Policy Advisor Mary Luehrsen and Chris Cushing and Connie Meyers of Nelson Mullins.
Bob Morrison of Quadrant Research, one of the nation's leading arts education research organizations, presented the Arts Education Data Project Summary. The pre-pandemic report offers a comprehensive look at access to and participation in music and arts education courses for each of the four arts disciplines of dance, music, theater, and visual art with a more detailed focus on music education. The new AEDP report reveals that 3,609,698 students do not have access to music education and that 2,095,538 students do not have access to any arts education. Learn more here: https://artseddata.org
Advocates also carried important findings from the recently released study, Music-Based Mentoring & Academic Improvement in High-Poverty Elementary Schools. The study, which took place across a large, urban elementary school district in Long Beach, California, examined the role of music training combined with mentoring as a catalyst to boost students' language-related brain development and improve their capacity to learn. It found that with just four hours per week of instrumental music training and mentoring, reading and math scores improved significantly for participating students and that, importantly, the greatest gains were seen in participating students with the lowest prior levels of achievement.
JP Parekh, Owner of Rice Music House in Columbia, South Carolina, will be meeting with his representatives next week in their district offices. The Advocacy Hill Day marks his third music education advocacy event with NAMM, and the in-district meeting opportunity further underscores his work with the local school district to help it access ESSA and pandemic-related funds. Parekh returns to participate as he shares, "If you don't, our representatives will forget it. Music education advocacy is a very important part of our industry – we have to continue to meet with our representatives, or the message that music education is important is lost."
Additional information about the Hill Day Advocacy Summit and NAMM can be found by visiting https://ww1.namm.org/issues-and-advocacy/hillday22
---
About NAMM
The National Association of Music Merchants (NAMM) is the not-for-profit association with a mission to strengthen the $17 billion music products industry. NAMM is comprised of 15,000 global member companies and individual professionals. NAMM events and members fund The NAMM Foundation's efforts to promote the pleasures and benefits of music and advance active participation in music-making across the lifespan. For more information about NAMM, please visit www.namm.org. The 2024 NAMM Show will be held at the Anaheim Convention Center January 25-28.