NAMM'S Million More Music Makers to Celebrate Guitar, Ukulele, and Bass in Classrooms and Communities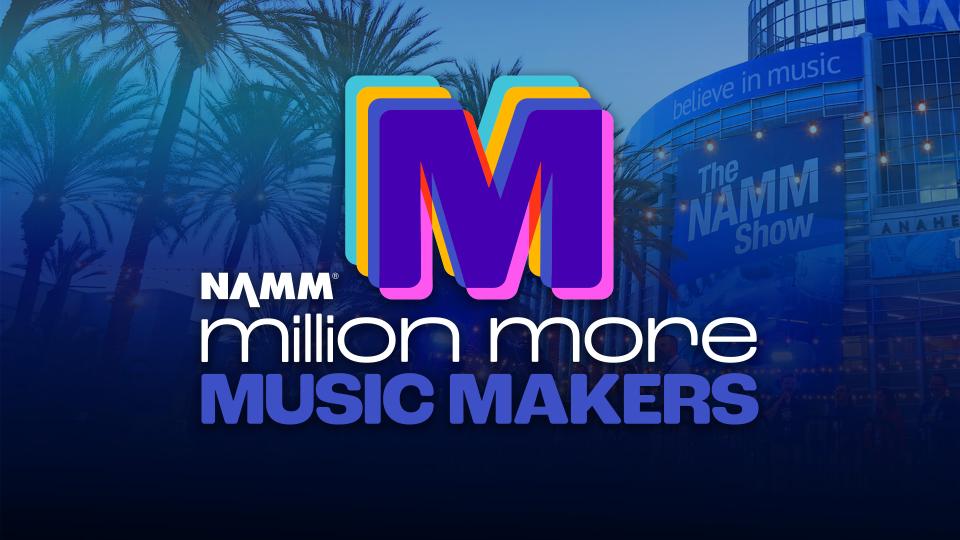 At The 2023 NAMM Show, The NAMM Foundation will launch NAMM's Million More Music Makers, a new initiative that offers hands-on training to expand guitar, ukulele, and bass music learning opportunities in schools and communities for people of all ages. Million More Music Makers will take place across the NAMM Show campus in Anaheim, California, April 13-15, and welcomes professional and amateur musicians, teachers, college students and faculty, school administrators and curriculum specialists, as well as community music organization leaders and participants, to take part in focused programming designed to build and encourage music makers at all stages of life.
"Research continually demonstrates the true joys and benefits of making and learning music for people of all ages and abilities. NAMM's Million More will engage, educate, and inspire participants to expand music learning opportunities," said Mary Luehrsen, executive director of The NAMM Foundation. "Every person we train and support at the NAMM Show will impact hundreds and thousands more in schools and communities. We come together at the NAMM Show to move our collective impact forward to assure music learning opportunities for all."
This 2023 inaugural edition of Million More Music Makers will spotlight the teaching, learning, and playing of guitar, ukulele, and bass. Specialized programming will include teacher trainings for classroom and group instruction in schools and community organizations; a review of school curriculum planning and alignment with education standards; workshops and hands-on learning experiences; performance classes with artists open to players of all levels; and much more.
Joining The NAMM Foundation in this endeavor are the American String Teachers Association (ASTA); California Music Educators Association (CMEA); College Music Society (CMS); Guitars 4 Vets; Guitar and Accessories Marketing Association (GAMA); Guitars in the Classroom (GITC); Langley Ukulele Association; Music Will (formerly Little Kids Rock); National Association for Music Education (NAfME); Save the Music Foundation; Teaching Guitar Workshop; Technology in Music Education (TI:ME) and more.
"Music Will is excited to be a part of NAMM's inaugural Million More Music Makers initiative in April," said Dave Wish, CEO and founder of Music Will (formerly Little Kids Rock). "Creating hands-on learning opportunities for the hundreds of music teachers who attend the NAMM Show is a game changer and one that will allow us to reach more students and turn them into lifelong music makers."
Peter Luongo, president of the Langley Ukulele Association, shared, "I am thrilled that classroom and community music educators are being provided with the opportunity to gain professional development opportunities at The NAMM Show. The fact that the ukulele will be showcased at this year's event means that not only will we see the latest models and connect with players, builders, and vendors, but teachers and enthusiasts will also be able to gain insights into effective practices for teaching and learning to play the uke!"
The Million More Music Makers initiative will join the crossroads of the music products, pro audio, and entertainment technology communities, a vibrant exhibition of innovative new products and services, networking, events, and additional professional development opportunities. In addition, the Million More Music Makers programming will complement long-established NAMM Foundation signature programming, including GenNext, in collaboration with The College Music Society (CMS) for college music students and faculty; Music Education Days for music teachers and school administrators seeking what's next in music products and classroom technologies; The Nonprofit Management Institute for nonprofit arts organizations; and the annual Grand Rally for Music Education to celebrate the advocacy and impact of music education, educators, and advocates.
Teachers, students, leaders, and staff of community music organizations, and all who believe in music are encouraged to participate and accelerate the vision that all people of every age and ability can make music. Registration for The 2023 NAMM Show is now open at https://www.namm.org/thenammshow/registration
For additional information, please visit www.namm.org or follow #NAMMShow
---
About NAMM
The National Association of Music Merchants (NAMM) is the not-for-profit association with a mission to strengthen the $17 billion music products industry. NAMM is comprised of 15,000 global member companies and individual professionals. NAMM events and members fund The NAMM Foundation's efforts to promote the pleasures and benefits of music and advance active participation in music-making across the lifespan. For more information about NAMM, please visit www.namm.org. The 2024 NAMM Show will be held at the Anaheim Convention Center January 25-28.