The Women of NAMM Leadership Summit Concludes with 17 Graduates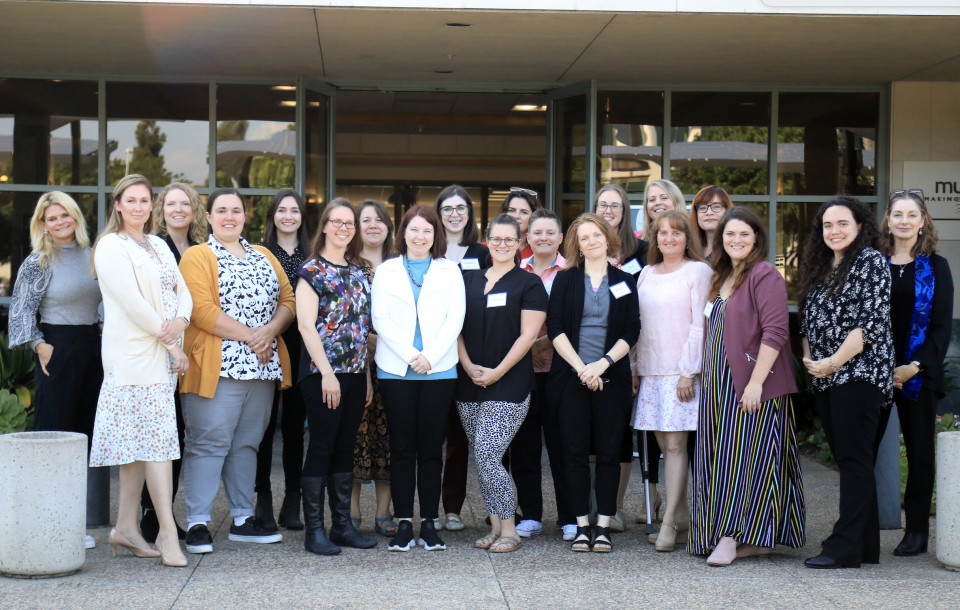 This week, the Women of NAMM (WoN) hosted the third annual WoN Leadership Summit at NAMM Headquarters in Carlsbad, California. Over the course of October 17-19, 17 female industry professionals took part in an intensive, three-day leadership immersion experience designed to support women working across the industry and their goals to connect, support, and grow their leadership and professional abilities. 
The Summit, which Dr. Jen Hall facilitated, offered intensive training and discussion, skills assessment, strategies for coaching and feedback, developing resilience, and more. In addition to the leadership and professional development program, each participant enjoyed a tour of NAMM's Museum of Making Music, lunch with The NAMM Foundation Board of Directors, and learning more about the history of the association and industry.
One participant, Catherine English of Bertrand's Music, said that as a result of the Summit, "I became even more aware of how many strong leading women there are in the music industry, and how we can be supportive of each other both mentally, emotionally and with business and professional advice… As a result, I intend to take back an attitude of encouragement and boldness, to give beneficial feedback using the systems that we learned, and to continue to build up more women into leadership so that our music world can have a balance that is better reflective of who we are as a society."
"This Summit has profoundly impacted me. Previously, I would dismiss that these types of things were needed. Now, I see the importance of having these spaces for women to learn and flourish. I hope that the skills I am learning and the self-discovery will carry over to my day-to-day life as an education rep," shared Kayla Davis of Music & Arts.
The 17 graduating participants of the program include Tonya Adams, West Music; Laura Clapp Davidson, Shure Incorporated; Kayla Davis, Music & Arts; Michele Dwiggins, Beacock Music; Catherine English, Bertrand's Music Enterprises; Jessica Ferrari, Menchey Music; Jordan Gruver, Fender; Katie Helgeson, The Music Shoppe; Erin Kessler, Maple Leaf Strings; Kristin Masarik, Heid Music; Natalie Morrison, D'Addario & Company, Inc.; Thea Paraskevaidea, Beaumont Music;  Amanda Rueter, Ernie Williamson Music; Gayle Stewart, High Strung Guitars; Stacey Swanson, Swanson Consulting Group; and Samantha Tranchida, Quinlan & Fabish.
The Summit's return was announced earlier this year at the Women of NAMM gathering at The 2022 NAMM Show. At the event, the council also announced in tribute to the memory and lasting impact of industry philanthropist, business leader, wife, and mother, Diane Martin, donations made in her honor to the WoN Fund will help continue to ensure that WoN will create opportunities for women. In this instance, the funds made in Diane's honor were used to help accepted applicants offset related travel costs to the WoN Summit.
Next up from Women of NAMM: On Tuesday, October 25, 2022, at 12:00p.m. PT, WoN will host a virtual, Deep Dive webinar featuring Dr. Jen Hall. Dr. Hall will address the topic of "Mindsets and Mantras." All NAMM Members are welcome to join a discussion with their peers on challenges and successes across the industry. Learn more and register here: https://www.namm.org/news/press-releases/women-namm-presents-deep-dive-mindsets-and-mantras-dr-jen-hall
Visit www.namm.org/women-of-namm to learn more.
---
About NAMM
The National Association of Music Merchants (NAMM) is the not-for-profit association with a mission to strengthen the $17 billion music products industry. NAMM is comprised of 15,000 global member companies and individual professionals. NAMM events and members fund The NAMM Foundation's efforts to promote the pleasures and benefits of music and advance active participation in music-making across the lifespan. For more information about NAMM, please visit www.namm.org. The 2024 NAMM Show will be held at the Anaheim Convention Center January 25-28.