WoN Leadership Summit to Welcome 18 Emerging Female Leaders in the Music and Audio Products Industry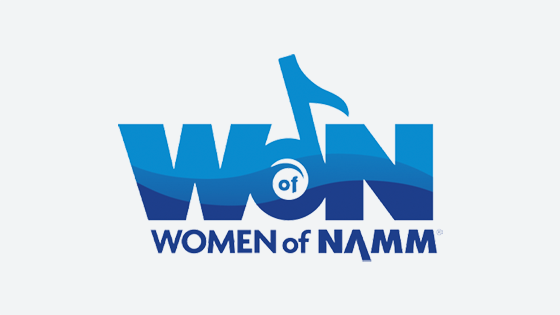 Carlsbad, CA
Women of NAMM (WoN) is pleased to announce that 18 emerging female leaders will participate in the WoN Summit, October 17-19, 2022, at NAMM Headquarters in Carlsbad, California. Now in its third year, the WoN Summit is an intensive, three-day leadership immersion experience designed to support women working across the industry and their goals to connect, support, and grow their leadership and professional abilities. 
Participants in the Summit will include Tonya Adams, West Music; Laura Clapp Davidson, Shure Incorporated; Kayla Davis, Music and Arts; Michele Dwiggins, Beacock Music; Heather Edwards, Reverb; Catherine English, Bertrand's Music Enterprises; Jessica Ferrari, Menchey Music; Jordan Gruver, Fender; Katie Helgeson, The Music Shoppe; Erin Kessler, Maple Leaf Strings; Kristin Masarik, Heid Music; Natalie Morrison, D'Addario & Company, Inc.; Gail O'Brien Stewart, High Strung Violins & Guitars; Thea Paraskevaides, Beaumont Music; Amanda Rueter, Ernie Williamson Music; Stacey Swanson, Swanson Consulting Group; Samantha Tranchida, Quinlan and Fabish Music Company; and Amanda Whiting Gerstle, Universal Audio.
Laura Davidson of Shure says, "It is an honor to be selected for the WoN Summit. I have so much respect for the women joining me this year, and I can't wait to learn from each other as we all work to strengthen our skills, network, and community."
Amanda Rueter of Ernie Williamson Music echoed the sentiment. "I was ecstatic to receive acceptance to the WON Summit this year. I feel it will be an incredible opportunity for personal development and networking. I'm looking forward to learning from and learning with industry peers. I'm grateful to NAMM and the WON Committee for everything they do to provide growth and education opportunities, and I can't wait for the Summit to begin!"
In addition to the intensive leadership and professional development program, each participant will enjoy nightly dinners, a tour of NAMM's Museum of Making Music and learning more about the history of the association and industry.
"This year's cohort of women is truly representative of the excellence of the leadership pipeline developing within the industry and the individual efforts of NAMM's member companies," said Lisa MacDonald, chair of the Women of NAMM council and director of vertical marketing for Yamaha.
"The Women of NAMM council is dedicated continuing its founders' vision of providing impactful, substantive development opportunities," she continued. "Given the strong interest in the Summit and the incredibly competitive applicant pool, we are focused on scaling up opportunities like this to serve even more women within the industry."
The return of the Summit was announced earlier this year at the Women of NAMM (WoN) gathering at The 2022 NAMM Show. Council co-founder Robin Walenta also announced that in tribute to the memory and lasting impact of industry philanthropist, business leader, wife and mother Diane Martin donations made in her honor to WoN Fund will help continue to ensure that WoN will create opportunities for women across the music, sound and live event industries to connect, support and grow. Funds made in honor of Diane were used to help accepted applicants offset related travel costs.
Visit www.namm.org/women-of-namm to learn more.
---
About NAMM
The National Association of Music Merchants (NAMM) is the not-for-profit association with a mission to strengthen the $17 billion music products industry. NAMM is comprised of 15,000 global member companies and individual professionals. NAMM events and members fund The NAMM Foundation's efforts to promote the pleasures and benefits of music and advance active participation in music-making across the lifespan. For more information about NAMM, please visit www.namm.org. The 2024 NAMM Show will be held at the Anaheim Convention Center January 25-28.