NAMM Presents the 2024 Top 100 Dealers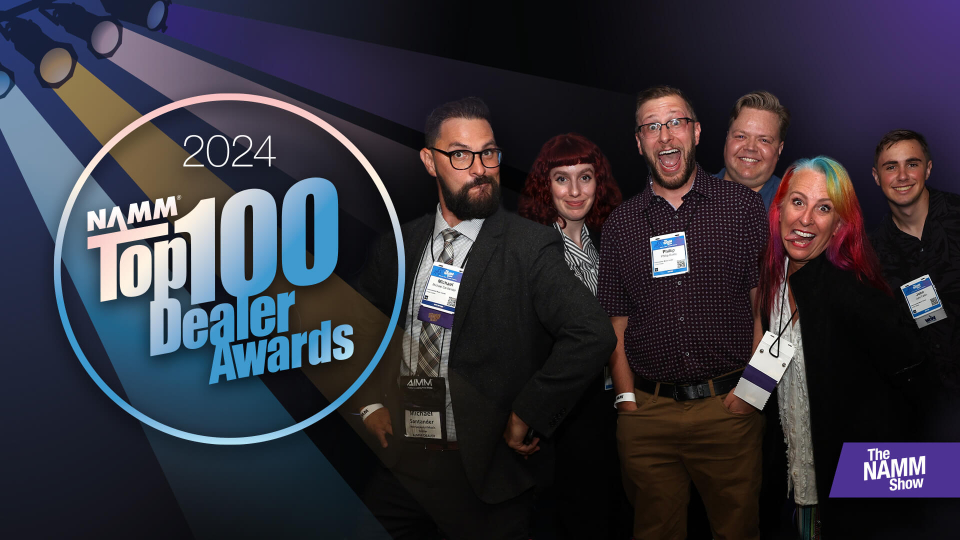 NAMM proudly presents the much-anticipated 2024 Top 100 Dealers! It's time to roll out the red carpet for the stars of our industry — the independent dealers who make the music world shine. 
Celebrated as the "Retail Oscars" by Music Inc. magazine, the Top 100 Dealer Awards is where we turn the spotlight onto the outstanding leaders of music product retail. This grand event not only celebrates their remarkable achievements but also delves into the strategies that power their success. Year after year, these awards pay tribute to retailers from across the globe who've gone above and beyond, pouring heart and soul into their stores, communities and customers, all while envisioning a more harmonious world through local music. 
In its 13th triumphant year, the Top 100 list introduces nine exceptional first-time honorees, along with 11 international players representing Canada, Germany, Netherlands, Poland, Singapore, Spain, Turkey and the United Kingdom. And here's a stunning note: Almost half of the awardees (48, to be exact) have a team of 10 or fewer, with 22 of them hitting the right chords with less than five full-time crew members. 
Our appreciation grows as we applaud the impressive number of submissions this year. To all who took the time to throw their hat in the ring, thank you. It was no small task for our independent panel of judges to sift through this exceptional group of nominees. Every Top 100 Award submission was meticulously evaluated by these experts, all overseen by our dedicated NAMM team. 
Mark your calendars: The crescendo of excitement reaches its zenith on Wednesday, January 24 at The 2024 NAMM Show. This is the moment when we shine a spotlight on the category champions — Best Community Retail Store, Best Store Design, Innovation Award, Best Marketing and Sales Promotion, Best Online Engagement, Music Makes a Difference Award and the thrilling Customers' Choice Award. And of course, a single store will be crowned with the prestigious NAMM Dealer of the Year Award. 
To see the Top 100 list winners, please visit https://www.namm.org/membership/top-100-dealer-awards.
As the stage is set and the anticipation builds, allow us to remind you: Registration for The 2024 NAMM Show is now open.