Level-Up Your Career at The NAMM Show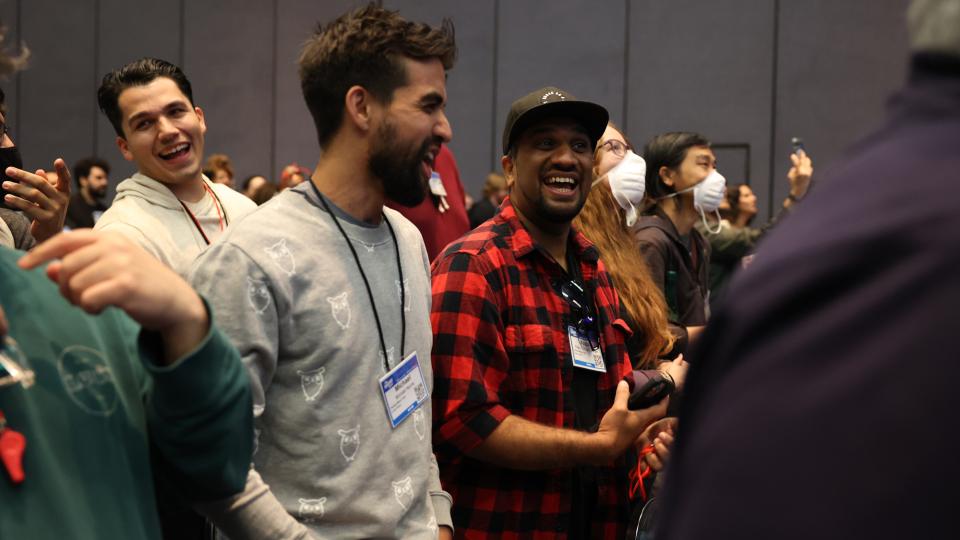 Music, sound, and live event professionals know — when you attend The NAMM Show, opportunities follow. With over a hundred countries and thousands of brands present, the NAMM Campus is the place to be if you're looking to build your career in this industry. 
Discover your next business partner, best-selling product, or get your next gig, April 13–15, 2023, in Southern California. Registration is open now. 
Who Can Attend 
The global gathering brings together industry leaders, buyers, sellers, music educators, artists, media, and music makers from across the globe as they look to explore the latest innovations, celebrate their achievements, and further develop their skillsets to gain insight on the latest trends. 
Whether you are attending for the first time or are returning to Southern California for another iteration, The NAMM Show offers each of its attendees a one-of-a-kind experience that can't be missed. Students and emerging professionals can look forward to many educational opportunities and events and are encouraged to explore everything The NAMM Show offers; nothing is off-limits. 
Grow Your Skills 
Join NAMM President and CEO Joe Lamond at the Breakfast of Champions as he hosts industry titans and business leaders to discuss the latest trends, the importance of a musical world, and best practices to help your business thrive. Keep your eye out to bookmark education sessions and events from the GenNext program. GenNext brings together college students and faculty from across the U.S. to discover the latest trends, products, and tools relevant to today's music classrooms. 
Returning for its eighth year at The NAMM Show, A3E will provide forward-thinking educational programming that will take your career to the next level. 
Audinate is returning this April to provide free training to prepare professionals looking to grow their skills as they prepare for Dante Certification. Please note that additional registration is required beyond securing your NAMM Show badge. 
ESTA (the Entertainment Services and Technology Association) provides an opportunity to earn career-building ETCP (Entertainment Technician Certification Program) credits at The 2023 NAMM Show. 
The education offered as part of Tec Tracks will connect you with audio legends as they share their experiences and insights within the industry. 
Connect with Your Network 
The TEC Experience is a unique opportunity to network with a diverse audience while recognizing the innovative achievements that shape the music industry. Unique to The 2023 NAMM Show, the TEC Experience is open to all NAMM Show attendees and is entirely free. The 11th annual She Rocks Awards returns to honor women in the music and audio industries. Limited tickets are available; secure yours today. 
The Grand Rally for Music Education celebrates music-making's enduring joys and benefits and affirms a shared commitment to advocate for music education. 
Join NAMM as it hosts its New Member Reception and connects and networks with new NAMM members. 
Make a splash at the Pro Audio Pool Party, a much-loved NAMM Show tradition that brings together the pro audio and sound community for a fun-filled networking event. 
Discover a New Professional Group 
NAMM Young Professionals (NAMM YP) hosts meetups and networking events throughout The NAMM Show Campus that bring together like-minded peers, build solid business relationships, and learn from industry veterans. Women of NAMM (WoN) is dedicated to connecting, supporting, and uniting women across the music, sound, and live event industries. Current and prospective participants join together each year at The NAMM Show for a reception and other dynamic events. 
Attend on a Scholarship or Travel Stipend
Numerous scholarship and travel stipend awards are available to help students and emerging professionals offset the costs of attending The NAMM Show. These opportunities include the President's Innovation Award, the Bernice Ash Memorial Award, and the Women of NAMM Fund, all of which close their application process on Dec. 1.
Registration for The 2023 NAMM Show is now open, and for those unable to travel to Anaheim, NAMM Show+ provides opportunities to engage with The 2023 NAMM Show from anywhere around the world.