NAMM 2024 Top 100 Dealers Announced
NAMM Celebrates Retail Excellence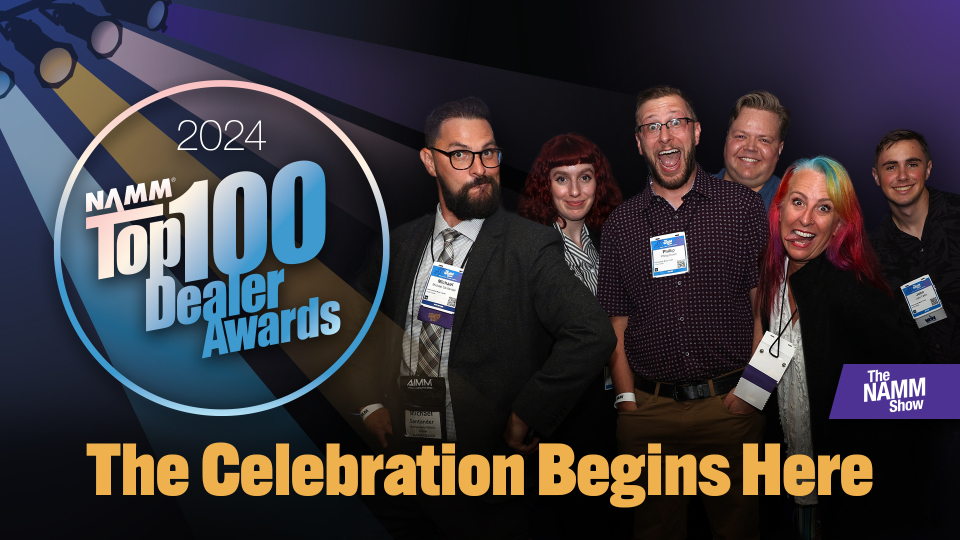 — Top 100 Global Retailers Recognized by NAMM —
CARLSBAD, CALIF., SEPTEMBER 1, 2023 – NAMM (www.namm.org/news), the world's largest not-for-profit music trade organization representing the $17 billion music industry,announced its list of independent music product retailers to be honored at the Top 100 Dealer Awards taking place at The 2024 NAMM Show in January. The annual awards honor retailers from around the globe who demonstrated exceptional commitment to their stores, communities and customers and share in the vision of creating a more musical world through their localities.
Now in its 13th year, this year's Top 100 list (which can be viewed here (https://www.namm.org/thenammshow/2024-top-100-dealers) includes nine first-time honorees and 11 international retailers representing Canada, Germany, Netherlands, Poland, Singapore, Spain, Turkey and the United Kingdom. Additionally, nearly half (48) of the companies have 10 or fewer store employees with 22 of those employing less than five full-time staffers.
The Top 100 Awards Show will be held on Wednesday, January 24 at The 2024 NAMM Show highlighting category winners, including:
Best Community Retail Store; Best Customer Service; Best Store Design; Innovation Award; Best Marketing and Sales Promotion; Best Online Engagement; Music Makes a Difference Award; with one store taking home the coveted NAMM Dealer of the Year Award.
Each submission for the Top 100 Award was evaluated by a panel of independent judges overseen by NAMM staffers.
For additional information about the Top 100 Awards, please visit https://www.namm.org/thenammshow/attendee/namm-presents-2024-top-100-dealers.
Registration for The 2024 NAMM Show is now open with additional information available at www.namm.org/attend.
---
About NAMM
The National Association of Music Merchants (NAMM) is the not-for-profit association with a mission to strengthen the $17 billion music products industry. NAMM is comprised of 15,000 global member companies and individual professionals. NAMM events and members fund The NAMM Foundation's efforts to promote the pleasures and benefits of music and advance active participation in music-making across the lifespan. For more information about NAMM, please visit www.namm.org. The 2024 NAMM Show will be held at the Anaheim Convention Center January 25-28.