Bringing The Future Into Focus: The NAMM Show, the Global Gathering of the Crossroads of Industry, Returns to Anaheim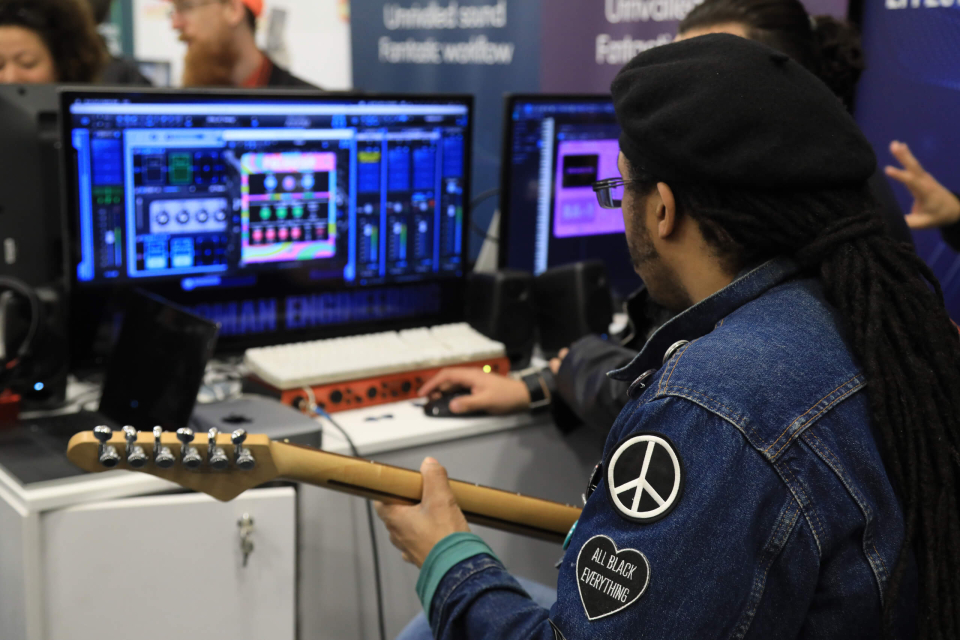 On its bridge back to January, The 2023 NAMM Show reunited the global music products, pro audio, and entertainment technology industry in a special session. Held at the Anaheim Convention Center over April 13-15, the three days welcomed the launch of new products, business opportunities, and valuable reconnections as the industry regains its momentum in the post-pandemic economy.
"As the pandemic and its impact continues to recede, the industry is quickly finding its footing for the future," shared NAMM President and CEO Joe Lamond. "And while the deck of cards is being reshuffled as we speak, those here demonstrated an invaluable competitive advantage. These are the moments in history when big changes occur, both in innovation and in careers, and the leaders of tomorrow were here, creating exciting new business opportunities at the true crossroads of the industry."  
"For companies participating in our new market-building initiatives like Million More Music Makers, they are the ones that will lead our industry to further growth and success," affirms Lamond of the initiative, which trained and inspired thousands of music educators on guitar, ukulele, and bass. "Through the lobbying of NAMM and our dedicated members, we are coming out of this period with music education better supported than ever before and now seen as essential to engaging or re-engaging students in communal activities. It's an important bellwether that speaks to a strong future for those actively supporting the industry's future."
NAMM Chair, Joel Menchey of Menchey Music Service, said, "The global industry came together last week in Anaheim, and it was incredible to see so many NAMM members, companies, products, and technologies under one roof again. Hearing from NAMM members, the momentum is back, further proving we're truly at our best when we're together in supporting and strengthening our industry."
The Crossroads Building The Future of The Industry
With a desire to reignite industry relationships, business, and launch new products, the show welcomed over 1,200 exhibiting members representing 3,500 brands across the campus of the Anaheim Convention Center. The April gathering welcomed 46,711 invited members and attendees representing 120 countries and territories, from Afghanistan to Zimbabwe. International attendees, previously restricted by pandemic measures, accounted for a 64% increase in attendance, year over year, making NAMM the only global show of its kind.
Attendees were an invited mix of industry professionals from across the crossroads that included domestic and international retail and distribution buyers and employees, exhibitors, entertainment tech and pro audio buyers and professionals, media, artists, guests. The NAMM Foundation's Million More Music Makers initiative, comprised of GenNext, Music Education Days, and Nonprofit Institute welcomed college music students and faculty, school music administrators and buyers, and NAMM grantees and nonprofit affiliates.
"NAMM is the Superbowl of the MI Industry. So anybody that's putting out new product has to be here, it's the best way to show product. It's good to be back to see family in the industry," shared Beyer Dynamic's Jamie Thompson.
Martin Guitars CEO Thomas Ripsam said, "Beyond continuing to be an active supporter of NAMM, we also have a lot of exciting things underway at Martin. At the conference, we unveiled our new branding strategy and a whole suite of thrilling new products.  NAMM provides a great platform for us to share our news with the world and to meet with many partners, artists, the media, and friends.  Fantastic exposure and we are happy to be here."
"Yamaha had 40 new products to launch, and the April NAMM Show was the perfect time to get our dealers' hands and eyes on experience with our new products," confirmed Tom Sumner of Yamaha. "We were able to put our products and our people in the best light at the show, and we engaged customers that weren't at the show through social media and the press. We also treated the NAMM Family to two amazing nights of music with TobyMac, Jamison Ross, Big Bad Voodoo Daddy, and Lawrence. We can't wait to show what we have in store for the return of January NAMM."
"The NAMM Show is the only opportunity to meet all your customers and artists face to face. There is no other organization where you have that opportunity. After every NAMM Show, I am just blown away by all the things that happened that I couldn't have predicted," said Sheldon Dingwall of Dingwall Guitars.
Duddie of 1V/OCT Limited, a first-time exhibitor, echoed that sentiment. "Well, I did not expect the NAMM Show to be as big as it is, especially after the pandemic. But what excited me is the ability to show my products to artists and performers so that I can gain some of the U.S. market."
"Casio is always proud to display at The NAMM Show and grateful to NAMM for bringing us all together, particularly this year. Our industry association is genuinely interested in building our shared success in the music products industry, and that is a large reason why we support NAMM," shared Stephen Schmidt, Casio America.
Matt Harpster, CEO of Artesia PRO said, "We think 'special edition' is just nomenclature for spending more time to support our artists, dealers, and pro audio editorial. We've been coming every year since we started; getting face time with our dealers and artists is essential. We like to take these opportunities to show off our products as often as possible."
"The NAMM Show has always been the primary venue for Ultimate Ears Pro to showcase new product releases," shared Philippe Depallens of Ultimate Ears Pro. "Having the opportunity to connect directly with our core demographic of consumers, buyers, and press has been invaluable."
With global travel easing, international buyers turned out in force, taking in much of the new product that had been missing from their businesses over the past three years.
Pedro Whitney of Audio Tec Mexico said, "I'm glad we're back. We missed a couple of years of products, and to be here, checking out the new products and seeing everyone that's here is important. Thank you NAMM for making this happen."
"It's our first one back since the pandemic. It's great to be here, shake hands, see everyone and the products; that's the main reason we're here. We're looking for small manufacturers and the boutique brands. Brazil needs to have products that are unique," shared Luiz Sacoman of Sales FX Music in Brazil.
Tim Exile of Endless LTD, a first-time exhibiting company from England, chose the Show to launch their new product. Exile said, "The NAMM Show is the place where the entire industry gathers, so it's THE place to be. It's our first NAMM Show with the world's first beat-making video game machine to gamify the front end of it. We chose the NAMM Show to bring the product to the world. If you're launching something new in music creation, it's the place to be."
Jorge Garza of GAMA Music Mexico, "After the pandemic, we didn't know if things were going to be the same at NAMM, but we're glad to see that it is! We're here looking for new business and to take this opportunity to see a new product."
Leading Business Strategies and Opportunities 
Members had the opportunity to connect with the world's experts through 200-plus best-in-class education sessions designed to inform, engage, and inspire new ideas to prepare for tomorrow's trends and opportunities. 
NAMM U: Strengthening Business, Generating Opportunity
On Wednesday, April 12, NAMM welcomed members to two pre-show sessions: the NAMM Marketing Summit and the NAMM Succession Summit. The NAMM Marketing Summit, presented by marketing veteran Park Howell, provided a daylong immersive education experience designed to help members harness the power of brand storytelling and turn prospects into lifelong customers. At the NAMM Succession Summit, presented by music industry accounting pros Alan Friedman and Daniel Jobe of Friedman, Kannenberg & Co., members were immersed in the essentials of succession planning.
Each day of the show began with a NAMM U Breakfast Session in the Anaheim Convention Center ballroom. On Thursday, April 13, NAMM President and CEO Joe Lamond hosted "Breakfast of Champions" with a panel of industry leaders and innovators, discussing the importance of character. Guests included George Hines and Bob Bankston, co-founders of the Alliance of Independent Music Merchants (AIMM), as the organization celebrates its twenty-fifth anniversary; Tom Sumner, Yamaha Corporation of America; and Laura Penrose, Nick Rail Music and Penrose Strings. Other guests included Bill Putnam Jr., founder of Universal Audio; record industry executive and Pensado's Place co-founder Herb Trawick; and incoming NAMM President and CEO John Mlynczak.
At the end of the session, multi-GRAMMY® winner, songwriter, and artist John Fogerty was presented with NAMM's "Music for Life Award."  In his interview, Fogerty shared his early songwriting process, including bringing his lyric book on stage to share with the audience, a story of his music teacher, Mrs. Stark, and the importance of teachers in music education.
"In junior high, I had a wonderful music teacher named Mrs. Stark. What was so great about her was not only did she love music, like we all do in this room, she expressed that and talked to me like I mattered… There was a piano in that room, and basically, my band was formed there. I would run down there after school and would play the piano.  Mrs. Stark would allow me to do that. Her encouragement and absolute joy about music inspired me."
On Friday, innovation, futurist, and global retail expert Kate Ancketill presented "The Big Disruptors: How to Adapt, Innovate and Lead." In this NAMM U Breakfast Session, Ancketill addressed what innovations and disruptions are altering business as we know it. On Saturday, the annual favorite, "Best in Show," returned. Members joined Music Inc. and Upbeat Daily Publisher Frank Alkyer and a panel of retail experts to discuss their product and technology picks for the title from across the show floor.                                   
The NAMM Idea Center offered curated topics to give members the tools to accelerate their business. Topics included "Video Success Secrets for TikTok, Instagram, and YouTube," presented by Tracy Hoeft of Amplify 11; "Actionable Tips to Incorporate DEI Into Your Hiring and Marketing" from Reverb Chief Marketing Officer Kristen Cho; "How to Create Memorable Customer Experiences: Lessons From the Events World" from Phil Mershon, a veteran event experience designer; "Top Tips for Improving Profitability at Your Business" from Ernie Williamson Music Vice President of Finance, Amanda Rueter; "TikTok, Meta, Snapchat, and YouTube Shorts: Mastering Social Media Algorithms for Artists" with Temima Shames of Next Step Talent and TikTok star Brooklynne Webb.
Hear This: A3E, TEC Tracks, Dante, and More
More than 75 pro audio and music technology sessions welcomed emerging and established professionals from all aspects of production and performance, presenting myriad opportunities to grow their careers in preparation for the future of all things sound.
At A3E: The Advanced Audio + Applications Exchange, the future is now with a series of sessions that explored how advanced audio applications are transforming the music industry, production, and performance. Future-focused sessions included "Revolutionizing Sound With Immersive Audio and AI," where a panel of visionary artists, composers, and companies focused on revolutionary changes in audio technology and the next advancement of audio design by reinventing what is possible and accessible to all creatives, including AI or generative music; "VR/AR/XR for Interactive Media: Meeting Your Fans Wherever They Are," which explored the concepts of virtual reality (VR), augmented reality (AR), and extended reality (XR) and the ecosystem of apps and technologies that further set the stage for a digital future with AR, VR, and XR experiences in music, gaming, and video; "What Will a Musical Instrument Be in the Next 10 Years?" a session that brought together the brightest minds and viewpoints on what new instruments may emerge in the next ten years; and others.
TEC Tracks
For audio pros seeking big-picture sessions and speakers, TEC Tracks uncovered topics ranging from a series of how-to's and key expert insights, including a two-session keynote panel, "3-D Mixing, the Technology, and the Artistry," with Brian Hardgroove; "The Future of Mastering," with Jonathan Wyner on the state of mastering and future trends to watch; "The Future of Personal Expression and Creativity in Popular Music," with Michael Beinhorn and KORN frontman Jonathan Davis; "Brandi Carlile in Conversation with Dave Way"; "The Artist/Producer Relationship With Tony Brown, Frank Liddell, and LeeAnn Womack"; and "Women Behind the Mic: Podcasting in 2023," with Shure Market Development Manager Laura Clapp Davidson, among many other sessions.
In special demo rooms, attendees had the chance to get hands-on with top audio gear from the likes of Adam Hall; Aerowave; Allen & Heath; BASSBOSS; DAS Audio; d&b audiotechnik; dBTechnologies; Eastern Acoustic Works; LD Systems; Meyer Sound Laboratories, Inc.; Ocean Way Audio; Pioneer Pro Audio; RCF; Sennheiser / Neumann; and QSC Pro Audio. There, pro audio professionals became immersed in opportunities to experience new systems and connect with product experts.
Dante
Audinate, the creators of Dante, offered participants three levels of free training and certification. Courses included "An Introduction/Demonstration of Dante AV Ultra and Dante AV-H," "Dante Certification Level 1, Second Edition," "Dante Certification Level 3, Second Edition with DDM Demo – Live Prep Session," and "Introduction to Managed Switches."
The Worship Musician Summit at NAMM
On Saturday at the show, TEC Tracks offered an all-day suite of sessions for house of worship audio professionals and musicians. Curated by Worship Musician magazine, session topics included "Buying, Selling and Installing the Right Sound and Tech"; "Music Directors: The What, Why and How"; "Promoting Your Music in a Streaming World"; "Sound + Tech: Teams and Workflow"; and "Worship Guitar Gear," which covered everything from guitars and basses to effects, modelers and presents.
Entertainment Technology: Illuminating the Future
In collaboration with Entertainment Services and Technology Association (ESTA); the Event Safety Alliance (ESA); PLSN and FOH magazines; and Lighting and Sound America magazine, the show's free education and professional events provided the tools needed to navigate the next stage of any career in live event production.
Entertainment Services and Technology Association (ESTA)
ESTA's extensive sessions covered everything from lighting and lighting networking to rigging and safety through in-depth education for entertainment technology and design professionals, as well as those responsible for their safety. Presented in conjunction with Lighting&Sound America, top thought leaders Javid Butler, Erin Giblin, Paul Kleisser, Michael Matthews, Shawn Silverman, and others presented on topics ranging from "Controlling Color With LED Lighting"; "On the Road: Portable Power Systems for Audio Systems"; "Powering Your Festival Stage: Power Distribution for Outdoor Live Events"; and "Wireless DMX512," among more.
Event Safety Alliance (ESA)
With event safety top-of-mind at every event, the Event Safety Alliance (ESA) shared educational sessions with a diverse roster of industry experts to explore critical issues within the live event safety space. Presentations on timely, relevant topics included: "Rock 'n' Roll All Night: Understanding and Managing Fatigue," with safety expert Bryan Huneycutt; "Building a Strong Foundation: Creating Effective Risk Management Structures for Success," with Safety Compliance Services founder Teresa Beardsley; "Meeting of the Minds: Contract Language," with ESA's vice president and founder of Adelman Law Group, Steve Adelman; and "So You Need a Plan. Now What? Risk Identification for Tours and Venues," from Kurt Miner, CEO of The Event Safety Company.
Also, Pro Production Sessions: Front of House and Projection, Lights & Staging News magazines shared interviews and behind-the-scenes presentations with entertainment technology leaders.
At the show, The NAMM Foundation programmed curated education and sessions for professionals with its GenNext, Music Education Days, and the Nonprofit Management Institute under the banner of its Million More Music Makers initiative to advance music-making for people of all ages and abilities.
Music Education Days
For music teachers and school administrators seeking "what's next?" in classroom technologies, curricula, and music products, Music Education Days presented 50+ hands-on workshops, sessions, and events. The sessions were presented in collaboration with other non-profit arts organizations and included "From Performing Musician to Classroom Guitar Teacher," "Elemental Ukulele: Pathways and Possibilities in the General Music Classroom," "Demonstration Class: Teaching Beginning Ukulele to Children," "Modern Band 101: Drums, Vocals, and Bass Focus," "String Teaching Simplified: Teaching Strings for the Non-String Player," "Creating a Live Electronic Music Group," and more.
GenNext
A collaboration between The NAMM Foundation and The College Music Society (CMS), GenNext offered 27 dedicated educational and networking sessions for college music students and faculty. Special sessions included "Be Marketable! Combining Performance and Entrepreneurship," "The Inside Scoop of Working in the Music Software Industry," "How to Stay Out of Soul Crushing Student Debt and Get a Career in Audio that Doesn't Suck," and "Making and Repairing Guitars for a Living," among others. 
The popular "Network with the Pros: Quick Tips for Having A Career in the Music Industry" was held each day of The NAMM Show. At each session, students could connect with industry insiders in mini-mentoring sessions.
The Nonprofit Management Institute
NAMM's Nonprofit Management Institute provided nonprofit music service organization leaders and their representatives with the resources and strategies to start, grow, or increase the reach of their organizations. Session topics include "Seven Ways to Build Deeply Rooted Capacity for Your Nonprofit Organization;" "Embedding Equity: An Arts-Integrated Approach for Nonprofit Leadership;" "Rethinking the Village: Need, Opportunity, Resources, Supply and Demand;" and "10 Things You Need to Do Right Now to Advance Your Nonprofit Organization."
Only-At-NAMM Moments
Thursday and Friday evenings of the show came alive on the Yamaha Grand Plaza stage with plenty of star power. At Thursday's Yamaha Night of Worship, TobyMac packed the Grand Plaza, and Friday's Yamaha All-Star Concert on the Grand featured the likes of Big Bad Voodoo Daddy, Jamison Ross, and Lawrence. 
The Yamaha Grand Plaza Stage was also home to Saturday's MIDI@40 celebration, which featured a performance by Resonant Alien, the new band from Public Enemy band members Brian Hardgroove and DJ Johnny Juice, a tribute to MIDI innovators, and a performance by Ellis Hall.
Also on Saturday, The Grand Rally for Music Education with special guests Dr. Molly Miller of the Molly Miller Trio, Latin jazz guitarist and World Series champion Bernie Williams, The Wooten Brothers, and the Legacy Ukulele Ensemble. The annual event celebrates music educators, advocates, and community organizations that make it possible for equitable access to music education for all.
Participatory community music-making events welcomed musicians of all abilities. Friday's All Industry Drum Circle welcomed music makers with percussion instruments provided on behalf of Remo, Inc.  Saturday's Ukulele Circle was presented in collaboration with Kala Brand Music and facilitated by Ukulenny.
Celebrating the Industry's Leaders and Luminaries 
Thursday evening hosted the TEC Experience, a communal reception to honor the products and people advancing music. Chuck D, the legendary leader and founder of the rap group Public Enemy, social activist, Rock and Roll Hall of Fame inductee, and Grammy Lifetime Achievement Award winner, was honored with NAMM's Impact Music & Culture Award. The award was conceived by musician, producer, and songwriter Brian Hardgroove as an opportunity to recognize individuals who move culture through the power of music.
Upon accepting the award, Chuck D said, "It's an honor to honor those who make this music, and that's what I'm using this platform for. Seeing peers and technologists like DJ Jazzy Jeff, Lord Finesse, Arabian Prince, and being able to see Keith Shocklee and DJ Johnny Juice. This platform that NAMM provides us helps tell the story, and we need to continue to tell that story. It is important and something I am fortunate to be a part of." 
GrandMixer DXT, uniquely dubbed the world's first "Turntablist," was presented by DJ Jazzy Jeff with the Hip-Hop Innovator Award. The award recognizes an artist whose work has advanced the art form of hip-hop and honors GrandMixer DXT's contribution to innovating the turntable as a musical instrument, the impact of which can be heard in every musical genre.
The evening included a music video montage of the history of hip hop from music/video mashup creator, producer, and director, Mike Relm and a performance by Resonant Alien. Additionally, awards were presented to TEC Experience finalists in 21 Technical Achievement and one Studio Design Project categories, given in recognition of the individuals, companies, and technical innovations behind the sound of recordings, live performances, films, television, video games, and multimedia. View the complete list here: https://www.namm.org/news/press-releases/namm-celebrates-outstanding-technical-achievement-tec-experience
Also, on Thursday evening, the industry gathered to celebrate female leaders and innovators at the She Rocks Awards. The eleventh annual award show featured a star-studded performance lineup, including live music, and honored a varying range of artists and professionals, including singer-songwriter Judy Collins; Fitz and the Tantrums' Noelle Scaggs; songwriter Shelly Peiken; Helen Culleton, COO of Audiotonix; Katherine Wing, Vice President of Roland Americas; and many others. Read the press release here: https://sherocksawards.com/
Friday evening saw the return of the Parnelli Awards to The NAMM Show. The annual gathering recognizespioneering, influential professionals and companies for their contributions to the live production industry. The event brought together the live entertainment community in a vibrant gathering to recognize industry leaders, including Marty Garcia, Parnelli Audio Innovator Award; Keny Whitright, Parnelli Visionary Award; and Roy Lamb, Parnelli Lifetime Achievement Award.
"It was thrilling to be back at NAMM for the first full Parnelli Awards in three years," says Terry Lowe, executive producer. "It was so great to hand out our complete array of awards and honors, and it was a crowning achievement for an industry that had to work its way back from such a critical time. We had a sell-out crowd, a record number of sponsors, and it was the kind of in-person celebration that can only happen at NAMM."
Women of NAMM welcomed women and allies from across the crossroads to a special cocktail reception, which featured Christine Schyvinck, President and CEO of Shure. The evening also presented the Beacon Award to Robin Walenta, one of the founders of the group formerly known as SWIM.  
NAMM Show+
The show's digital extension, the NAMM Show+, provided a platform for attendees to connect with each other, livestream sessions, special events, and performances from across the campus. Nearly 100 sessions and special events were livestreamed from the campus, with attendees able to engage through chat, networking features, and more on the platform. The NAMM Show+ platform will remain open until May 26 to view replays of sessions and events, and continue networking.
Looking Ahead: The Right Place, The Right Time.
Beginning May 1, John Mlynczak will assume the NAMM President and CEO role. Of the return in January, Mlynczak shares, "Exhibitor reservations are already exceeding expectations, and we are hearing from countless industry partners that they can't wait to return to the right place at the right time. The rhythm of our industry is back with the NAMM Show in January!"
The global crossroads of the music products, pro audio, and entertainment technology industry will return January 25-28, 2024. For additional information, please visit NAMM.org
---
About NAMM
The National Association of Music Merchants (NAMM) is the not-for-profit association with a mission to strengthen the $17 billion music products industry. NAMM is comprised of 15,000 global member companies and individual professionals. NAMM events and members fund The NAMM Foundation's efforts to promote the pleasures and benefits of music and advance active participation in music-making across the lifespan. For more information about NAMM, please visit www.namm.org. The 2024 NAMM Show will be held at the Anaheim Convention Center January 25-28.